I'm going to be a terrible member of the romance blogging community (but you all already suspected as much, right?) and do up an entire blog post on a subject instead of leaving another comment on someones blog. I know, I know - but I have a lot to say! Plus, there shall be linkage!
As many of you know - Jessica does these great round up posts every Monday over at her blog,
Read React Review
. This Monday featured none other than a shout-out to the
Soggy Bra Epidemic
, but also a mention of a post Mrs. Giggles did last week about genre and promo fatigue. One thing that several commenters brought up was
their desire to see more reviews of "older" titles
.
I've always said bloggers should just do whatever the heck they want on their own blogs, and comments like the ones I mentioned above are why. You're damned if you do and damned if you don't - so just do whatever the heck makes you, as the blogger, happy. You're less likely to suffer from blogging burn-out that way. For every reader who wants reviews of "older" titles? Yeah, there's another reader who gets pissed off at you for reviewing an out-of-print book because now they want to read it and they can't readily get their hands on a copy.
Certainly mileage varies on this. Hard-to-find means different things to different people. For one thing, distribution issues can make one book plentiful in used bookstores in the Midwest, but next to impossible to find down South. Buying a copy online is sometimes the answer, unless people know the book is hard to find in other areas of the country, and prices start skyrocketing (I've seen it happen). Plus what's readily available here in the States? Well that reader in Switzerland, Germany or Australia is probably going to have a tougher time.
It's also worth repeating that even if the title is available in digital format?
Not everybody has the desire or means to read an ebook
. Trust me on this. I know of what I speak Going to the library and asking about ILL is an option, but again, not necessarily an option open to everybody.
Now I can't speak for all the "bigger" blogs out there - but my experience with
TRR
and now
TGTBTU
has given me some insight into this issue. The reason a lot of "older" titles don't get reviewed on the large sites? A simple matter of a crap-load of new stuff coming in. In most cases, unless you start cloning reviewers, you can't even get to all the new stuff - let alone the "old" stuff. Seriously, you should see the amount of newer Harlequins I have loaded on my Sony Reader at the moment.
Yikes.
But that doesn't mean reviews for "older" titles aren't out there. They are.
You just have to go looking for them
. Two bloggers who I think do a wonderful job with this are
Rosario
(who was blogging before blogging was "cool") and
Aneca
. One thing I like about both of these bloggers is that they pretty much exclusively do book reviews. Rosario does review current stuff (for example, she was another one who loved
The Iron Duke
), but you'll also see reviews for books
that came out last year
or a historical romance that's been languishing in
her TBR since 2007
. So it's not all shiny, pretty new stuff.
Aneca pretty much
never
seems to review the latest, hottest, newest titles. All the reviews on her site seem to be for books that have been around the block a time or two. And if you're a traditional Regency lover? Oh man, stop reading this post, drop everything and
bookmark her site now
. She reviews
quite a number
of the old trad titles.
It's probably not a coincidence that both of these fine ladies live outside the US, and they're two of the bloggers who I think do a lovely job. Right down to including
indexes
for their reviews. Seriously, I'm the librarian and I so suck at that. I still haven't gone back to tag all my archives.
Sigh
.
In other news, and keeping with the theme of reviews for older titles, some of you might recall that I featured
an older Jo Goodman book
for
Random Romance Sunday
recently. Well, Novelnelle disclosed that she had the book (complete with over-the-top purple and yellow cover art) languishing in her TBR. My post nudged her to un-bury and read it, and she's now reviewed it over at her blog,
The Lonely Bookworm
. What did she think? Did all that purple and yellow cause her eyes to burn? Does 1980s Jo Goodman stand toe-to-toe with 21st century Jo Goodman?
Hop on over and find out
.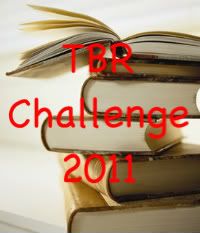 Oh, and reviews for older titles you say? Well how about the
2011 TBR Challenge
? Even if you don't want to participate, be sure
to check out the information page
for links to those who are. You want reviews for older titles? Well on the third Wednesday of every month you'll be guaranteed to get at least a few.