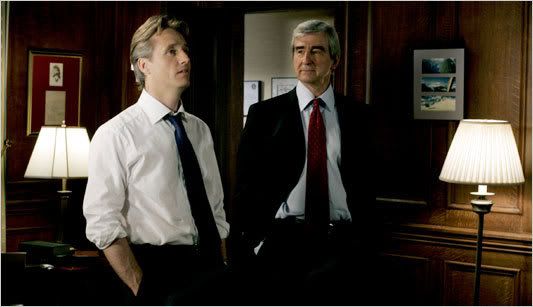 Since the FTC has now revised their guide on endorsements (and if you don't know what I'm talking about, check out Dear Author's
posts on the topic
), I figured what the hell? Everybody else is doing one, so why not do my very own disclaimer post! I suspect 99.99% of you could give a rat's ass, but if I do this post, I can then bury the link on my sidebar and never have to deal with this boring crap ever again. See, it's win-win! Plus, I don't think I've ever talked about this stuff before, so it's probably good for me to let it all hang out (as it were).
1)
I am
, once again,
a member of
Amazon Associates
, now that Amazon and the state of California have
called a truce
. What does this mean? Well, it means if you click on an Amazon link on this blog, then put said item in your shopping cart, and
then purchase said item
- I get a few pennies in return. And that's essentially what it amounts to. Pennies. I won't be quitting my day job anytime soon. If you don't want me to "profit" in any way? Hey, that's cool. You can still click on the link, just refrain from buying the item from said link. I'm good, you're good - and we can even still be friends.
Please note that I also use my Amazon Associates ID on my
Upcoming Historical Romances
wiki. I know it doesn't look like much, but the wiki does chew up a decent amount of my time (hunting up titles, throwing up links and cover images, organizing it...such as it is), so if I can get a few pennies for the trouble, I'm going to.
2)
I do, on occasion, accept advanced copies of books from authors and publishers. In no way does receiving these ARCs "earn" an author or publisher higher marks when it comes to my reviewing. If I hate the book, I'm going to say I hated it. Regardless of whether or not I got it for free. If I loved it, I'm going to tell readers of this blog why I loved it. Simple as that.
I've been reviewing online since 1999, and in that time never once has my objectivity been called into question (well, at least to my face). I sort of resent that it is now - even though I've hardly been singled out. But whatever....
To make it easy, when I'm reviewing an ARC
on this blog
, I will add "ARC Review" in the tag field at the bottom of the post. I started doing this on
October 8, 2009
. Since I have yet to go back and do general tagging on the bulk of my archives? Yeah, don't expect me to retroactively tag my older ARC review posts. Even if I could remember what reviews were for ARCs, frankly? I don't wanna.
Also, please note the above also applies to titles I receive via
NetGalley
.
3)
I do have working relationships with online venues where I'm compensated for my services. I have been doing some reviewing for
The Good, The Bad and The Unread
since 2008. After some consideration, it was decided that I would primarily review category romance for them. In exchange for these reviews, the Harlequin titles I review over there I receive for free.
And....
4)
In February 2011, I accepted a freelance position with
Heroes And Heartbreakers
, an online romance community, as well as
Criminal Element
, an online mystery/suspense community. Both of these sites are run by
Macmillan
Publishing, and I am paid for my contributions. The money is nice, but I'll be honest - it's pretty much just "
mad money
." I have never, ever, been given any directive by the staff to spin Macmillan in a positive light. I have never, ever been told I can't write about this or that. Certainly I have a collaborative relationship with my editor over there, but I've known her online for 10+ years, and I have tremendous respect for her. If this endeavor felt the least bit hinky to me, trust me - I wouldn't have signed on.
5)
In October 2012, I became a guest blogger at the
RT Daily Blog
, which is part of the
RT Book Reviews
web site. Just like Heroes & Heartbreakers and Criminal Element (see #4) I am paid for my contributions. And again, just like H&H and CE, it's pretty much "mad money." So the fantasies I like to spin about quitting my day job and essentially reading for a living are still that, epic fantasies that Wendy entertains after several glasses of wine and small mountain of Cadbury chocolate. I have a collaborative relationship with the editor of the blog, and while we kick around possible topics, I have never been given the directive to spin anything in a way that I am not comfortable with.
And so ends this disclaimer. Yada, yada, yada.
Updated 10/3/12.