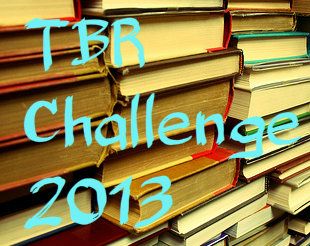 For those of you participating in the
2013 TBR Challenge
, this is a reminder that your "commentary" is due on
Wednesday, March 20
.
The theme this month is
Series Catch-Up
. A book from a series that you are currently behind on. Wowzers, I think we all have something (or a lot of somethings!) like that lying around in our TBRs, but in case not? Remember,
that the themes are totally and completely optional
. The themes aren't important - it's the act of reading something,
anything!
, that has been lying neglected in your TBR pile.
And hey, look at that - it's only March! And it's certainly
never
too late to sign up for the challenge.
Details and more information can be found here
. You'll also find a list of the current participants, should you wish to follow along.