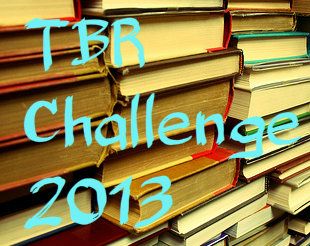 Welcome to the
TBR Challenge 2013
information page! Over the years this challenge has been hosted by other residents of Romance Bloglandia - the awesome
Keishon
and equally awesome
Angela James
. I took over hosting duties in 2011 and have had such a great time that I'm not giving up the reins yet!
What is the TBR Challenge?
Simply put, it's where readers pick up a long neglected book from their TBR pile, read it, and comment on that read on the
3rd Wednesday of every month
. The idea is to read those long neglected books that you just had to get your hands on at the time, but have been languishing in your pile, all lost and forgotten.
Commentary on your chosen TBR read
can happen anywhere online
(your blog, Facebook, GoodReads, Twitter, a message board etc.)
just provide me with a link
when you sign-up so interested readers can follow all the challengers!
This is a voluntary challenge
and I want this to be fun. Hey, life happens. If you have to skip a month, there will be no ridicule. Likewise, while there will be bragging rights for those that complete the challenge without skipping a single month - there is no pot of gold at the end of the rainbow.
Since some readers like a little guidance, I will also be keeping with tradition and providing themes.
These themes are totally voluntary
. If you don't have anything in your TBR that fits, the theme doesn't appeal, or you just want to read something else -
go for it!
Again, this is meant to be a fun challenge.
Monthly Review Dates And Theme Suggestions
January 16
- We Love Short Shorts! (Short stories, Novellas, category romance)
February 20
- Recommended Read (something recommended by a fellow reader)
March 20
- Series Catch-Up (pick a book from a series you're behind on)
April 17
- New-To-You Author
May 15
- More Than One (An author who has more than one book in your TBR pile).
June 19
- Lovely RITA (RWA RITA nominees OR winners. Past winners can be found
here
. Googling "past rita nominees" turns up several options from previous years).
July 17
- The Classics (Something classic within the romance genre - an author, a specific book, a trope/theme - I'm open to wide interpretations here!)
August 21
- Steamy reads (Erotic romance, erotica, something spicy!)
September 18
- Western (Contemporary or historical)
October 16
- Paranormal or romantic suspense
November 20
- All About The Hype (a book that created such chatter that it was inescapable).
December 18
- Holiday themes (Christmas, Thanksgiving, Valentine's Day, it's all good!)

The 2013 participants are....
Moi,
Wendy the Super Librarian
Willaful at
Karen Knows Best
Phyl at
Phyl's Quilts and Books
JanetNorCal at
GoodReads
Jena at
Throughout The Pages
Elizabeth at
Adventures In Life, Love, Librarianship
Nath at
Books, Books and More Books
Lynn at the
All About Romance Blog
Lori at
I Just Finished Reading....
Susan at
Susan's 2013 Reading Blog
Jenn at
Lost In A Great Book
Booklover at
Seductive Musings
Christine at
The Happily Ever After
Hilcia at
Impressions...of a reader
Jaqueline at
her blog
and at
GoodReads
Janine at
Dear Author
Ana at
Aneca's World
SonomaLass at
her blog
Caro at
Mess In Progress
Molly O'Keefe at
Facebook
Kathryn at
Book Date
Lynne at
Lynne At The Library Book Reviews
Susanna Fraser at
her blog
Sonia at
Books - Livros & Livros - Books
Lime at
A Little Bit Tart, A Little Bit Sweet
Amy at
Amy's Corner Of The World
Amber at
Buried By Books
Elaine at
Series-ously Addicted
...
Feel free to sign-up at any time for this challenge, even if you weren't able to get on board in January. If you want to be added to this list, or I had a brain-fart and forgot to add you even though you signed up, please
drop me an e-mail
. Welcome back to all the veterans, and a big hearty welcome to the new participants. Let's have loads of fun, read lots of books, and discover some long-buried gems!