This year marked the third year I completed, and second year I hosted, the TBR Challenge. This reading challenge has been kicking around online for a good number of years, and since I need all the help I can get with my TBR, I took over hosting duties in 2011 when Keishon decided she wanted to "retire." Since I do host, I do my darnedest to complete the challenge every month. Also, while I tell the participants that the themes are optional, since I'm the host I try to stick with them every month. Honestly, with as large as my TBR is, finding something (anything!) to fit the themes isn't exactly a tall order.
Here's a rehash of what I read, the great, the good, and the not-so-good.
Title links will take you to full reviews.
January
- Category romance -
Family At Stake by Molly O'Keefe
(2006)
, Grade = B-
Classic, angsty, reunited friends-to-lovers story within the Harlequin SuperRomance universe. The romance is good, but it was the other plot elements that I was actually the most invested in.
February
- Recommended Read (something recommended by a fellow reader)
-
Conor's Way by Laura Lee Guhrke
(1996)
, Grade = A
A real keeper of a read, an American-set historical romance featuring a wounded Irish hero and a spinster southern belle heroine.
March -
Series Catch-Up (pick a book from a series you're behind on) -
Nobody's Hero by Carrie Alexander
(2008),
Grade = B-
A cute SuperRomance featuring a single mom, wounded cop hero, and a plucky young girl obsessed with Trixie Belden books. It was a pleasant G-rated read, but the romance was a little thin in spots (and no, not because of the "no sex" thing.....)
April
- New-To-You Author
-
The Edge of Night by Jill Sorenson
(2011),
Grade = B
A really good romantic suspense book featuring a clean-cut cop and a heroine from the wrong side of the tracks.
May
- Old School (Publication date prior to 2000) -
Jackson Rule by Dinah McCall
(1996),
Grade = D+
A smooth writing style couldn't carry this contemporary romance that was completely devoid of anything resembling reality.
June
- Western (Contemporary or historical)
-
High Country Bride by Jillian Hart
(2008),
Grade = C+
A readable inspirational historical western romance with Hart's trademark angst. Unfortunately I found myself worn down by the exceedingly tolerant heroine who never got angry about anything.
July
- How Did This Get Here? (a book you can't remember how/why you put in your TBR!) or Free Pick
-
The Lightkeeper's Woman by Mary Burton
(2004),
Grade = B-
Typical Burton historical read for me. Which is to say that it was pleasant while I was reading it, but I don't have a lot of recall with it. One minor bugaboo on this one is a hero who doesn't open a box he inherits from the heroine's dead father until the end of the book (cripes I hate when characters do things like that - it's just not believable!)
August
- Steamy reads (Erotic romance, erotica, something spicy!)
-
Sweet Temptation by Maya Banks
(2010),
Grade = D
BDSM. 'Nuf said. OK, maybe not - I feel a rant coming on..... Character motivation that defied logic. Female characters in danger from a crazed stalker who have time to get together and gab about how amazing their sex lives are. A hero who can't have a "relationship" with the heroine because she's his dead BFF's "little sister" - but it's totally kosher to have "just sex" with her and arrange a gang-bang for her with three other guys. Ack! And a whole passel of men who kept calling the women in the story "baby," "honey," "sweetie," or "Angel." It was condescending as hell and I kept hoping the crazed stalker would show up with an Uzi. Breathe Wendy, breathe.....
September
- Other genre besides romance
-
The More The Terrier by Linda O. Johnston
(2011),
Grade = C
A cozy mystery that got lost under the "hook." I don't care about the heroine's work as an animal rescuer! I care about who killed the dead person!
October
- Paranormal or romantic suspense
-
The Missing Twin by Rita Herron
(2011),
Grade = D-
A mess of a read. Paranormal elements with absolutely no subtlety. A suspense thread that didn't make any sense. And cliches! Oh Lord the cliches! (The hero is Native American SO OF COURSE he has a "sixth sense", a teeth-grinding plot moppet etc. etc. etc.).
November
- All About The Hype (a book that created such chatter that it was inescapable)
-
The Spymaster's Lady by Joanna Bourne
(2008),
Grade = C
Wonderful writing, but a plot device regarding the heroine that didn't work for me and the double standard in her actions compared to the hero's when they're both spies? Yeah, it bothered me.
December
- Holiday themes
-
Home For Christmas by Carrie Weaver
(2005),
Grade = B-
A nice SuperRomance read with just the right amount of "Christmas stuff" thrown in the mix. A heroine who meets her match with a hero who, in theory, should be totally ill-suited for her.
One A (yippee!) and five B (double yippee!) is very, very good. But ugh, the other six months? Filled up with three C and three D. Given the sheer number of books I have in my TBR, those grades are probably a reasonable spread - but still? Nobody likes to think about the potential dud reads they have lurking in their TBR pile. On the bright side, all these books are now read, out of the TBR, and no longer contributing to my crushing
TBR Guilt
. Which, after all, is really the goal of this challenge for me.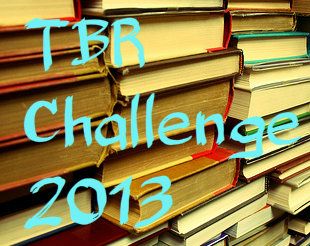 I am once again hosting the challenge for 2013, and I really cannot stress enough how much I enjoy the gig. I think all romance readers share the common goal of taming their respective TBR piles. This challenge is a fun, easy way to force your hand into actually, uh - doing something about the "problem." Would you like to sign on for 2013?
More details can be found here
, and you can either
drop me an e-mail
or leave me a comment on this post.
And so ends my recap(s) of my reading year that was 2012. Now, on to 2013!