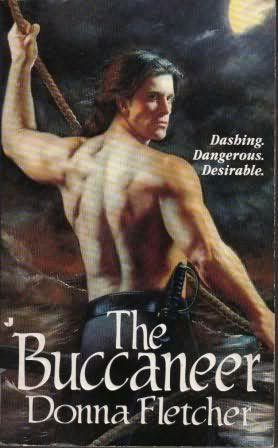 The Book:
The Buccaneer
by
Donna Fletcher
The Particulars:
Historical romance, Berkley Jove, 1995, Out Of Print
The Blurb:
His shoulders were broad, and muscles that had to have been developed by years of hard labor bulged from beneath his half-opened, white linen shirt. His legs were the width of mighty oaks that stretched the black material of his breeches to the limit, demonstrating every bit of prowess his body had to offer. But it was his face that made women catch their breath. A strong jaw. Sculpted cheekbones. A dangerous smile. Handsome, much too handsome. . .

His name was Captain Lucifer. His ruthless mastery of the sea was a notorious as his wicked way with women. And Catherine Abelard was his beautiful captive. By enslaving the stepdaughter of his enemy, the infamous pirate would have his final revenge. He would punish her with his kisses and force her to surrender to his every whim, every passion, every desire. But the devilish captor became the prisoner of his own longing. For Catherine found the tenderness beneath the treachery, the beauty within the beast. . . the lover behind the legend.
Is It In Wendy's TBR?
: With a cover blurb like that? Uh, no. I thought I had some other books by Donna Fletcher in my TBR, but my LibraryThing account is telling me I don't.
Hmmmm
.
Any Reviews?
: 1995 folks. So I got nothing other than some
Squeeeeee!
Amazon reviews.
Anything Else?
: Oh good heavens,
where
to begin? That back cover blurb is probably solely responsible for the fair amount of crap the romance genre (and the readers) have had to endure over the years. Mighty oaks? Seriously? Mighty-frickin-oaks? And Captain Lucifer? Seriously? Captain-frickin'-Lucifer? They even threw the "punishing kisses" nonsense in there.
That being said, this whole affair sounds like just the ticket for you
Old School Pirate On The High Seas
fans. Heck, I know of at least a couple of readers who would pick up this book based on the staggering amount of purple prose on the back cover blurb alone.
Not that I'm throwing stones mind you. If this were a western, I'd probably be unable to resist rescuing it from a used bookstore. Sick monkey that I am.
We all have our vices.