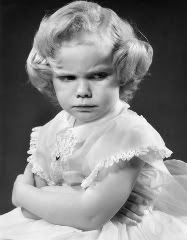 Little Miss Crabby Pants is still trying to wrap her mind around yesterday's
big
announcement
that Harlequin is getting into the vanity publishing business with it's new
Harlequin Horizons
venture.
I'm a reader and not a writer. I have no aspirations to start writing and work towards publication. Technically speaking, I don't
really
have a pony in this horse race, but I'll be brutally honest:
I hated this idea yesterday
and
I hate it even more today
. If for no other reason than Harlequin is slapping their name on this venture.
Since this is my blog, and presumably you're reading this because it is
my
blog, I'm going to make this
All About Me
.
I have very strong opinions about self-publishing and vanity publishing that have been honed over the last 10 years I've been a professional librarian. Those opinions are based on the self and vanity published books that have landed in my path over the past decade. I do believe that self and vanity publishing
can
work, but it takes a certain set of circumstances. The best example I have is the entire birth of the street lit genre. Those authors chose self-publishing because they were writing completely out of the box. Then they
literally
hustled their asses off. Once they built up a groundswell of support in the streets? NY took notice - to where you now find street lit authors signing very nice contracts with major houses.
But we're talking mainstream here, not "out of the box," and specifically romance fiction. A genre that literally publishes hundreds of books
every single month
. Where there is
hardly
a dearth of titles on the shelves to choose from. And heck, that doesn't even include the output of the small, reputable e-publishers that have come into their own in the last several years.
The sole reason I hate this Harlequin Horizons venture so much is that
it makes my job harder
. When people make my job harder it tends to piss me off. For the past decade I have practically hounded some of my colleagues that the romance genre is a vibrant, interesting, diverse genre that deserves respect. There are good stories, good characters, and good writing in this genre. Along those line I've probably spent the past 8 or 9 years trying to convince my colleagues and
my fellow romance readers
(for cripes sake) that Harlequin isn't a punch line. They aren't cookie cutter stories. They aren't fill-in-the-blank,
Mad Lib
style books that authors bang out on their computers in 30 minutes. There are rich, beautiful, diverse, magical stories being published by Harlequin every month. Hell, I've even gotten pretty good at explaining the god-ass awful titles they slap on a number of their books.
No matter their success. No matter the number of wonderful writers that have published with them in the past and present. No matter the amount of good press they've garnered in recent memory.
Harlequin is still the red-headed step-child in a lot of circles
. Among readers, non-readers and
even romance readers
. It's hard enough having justify my love of Harlequin every other day of the week, but this Horizons venture only proceeds in making my choices appear "less valid." It also makes it the perfect
"Oh yeah, well what about...."
retort from the non-believers that I'm now going to have to figure out how to tap dance around.
If Harlequin wanted to get in the vanity publishing business, fine. But it's the slapping of their name on it I can't abide.
It's the selling out of the brand name
. The name they have built up over the past
60 years
that I have issue with. Because now it's not a matter of you writing a good story. Of hustling your ass off, receiving rejection letters, rewriting, resubmitting, honing your craft. No, now for the right amount of money you too can be published under
Harlequin
Horizons! I'm telling you, if I was a Harlequin author who spent years working on my writing, going through the process etc. I'd be majorly cheesed off right about now - but that's me.
On a final note I want to address my growing concern that as this story has blown up all over the Internet, many people (I'm look at you Twitter-ers) are referring to Horizons as "HH."
STOP IT!
HH HAS ALWAYS BEEN AND ALWAYS WILL BE

HARLEQUIN HISTORICAL

. MY FAVORITE IMPRINT OF ROMANCE FICTION IN EXISTENCE. STOP IT. STOP IT NOW.

HH IS HARLEQUIN HISTORICAL!!!!!!!
Ahem
. Where was I? Oh yeah.....
Over the years I have championed, unabashedly I might add, my love for all things Harlequin. I've read and loved many of their books. I've told everyone and their dead grandmother about those books. Heck, one of the biggest thrills in my almost seven years of blogging was when I was invited to propose
an ebook bundle
for them. I love the company. I love their stories. I adore and admire many of the writers that used to write for HQ and continue to write for them to this day. They're still my go-to publisher for "discovering" new writers. And I'll be eternally grateful, to the day I die, that I discovered the Harlequin Historical imprint.
But, this. Ugh. I hate it. I don't like it at all. And I'm fully expecting to not change my mind on that issue. If I do, you'll be the first to know. Just as soon as I get done ice skating with Satan's minions.