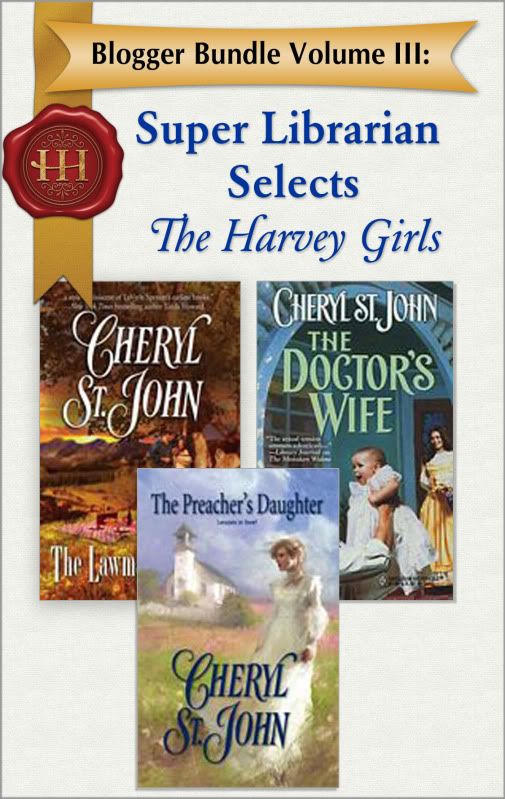 Massive Bat Cave news.
Huge
,
colossal
Bat Cave news.
Several months back, the digital team over at Harlequin contacted several bloggers about the possibility of putting together some
ebook
bundles. One of the bloggers they contacted was none other than lil' ol' me. Naturally, I practically fell all over myself saying yes. Which means I now had to come up with some ideas. I started out with two goals:
1)
Create bundles featuring books I personally enjoyed.
2)
Try to concentrate on books that currently are unavailable electronically.
I came up with three different bundle ideas - sending them all off to Harlequin hoping there would be one set they didn't think sucked. Well, I recently heard back from them. They selected my
Cheryl St. John
bundle!
Wahoooooooey!
As you are all well-aware, here at the Bat Cave we
lurve
us some Cheryl St. John. She is not only our very favorite Harlequin Historical author, but now that Maggie Osborne is retired, she also may be our favorite western romance author.
The Doctor's Wife
,
The Lawman's Bride
and
The Preacher's Wife
are all connected books in the author's
Harvey Girl
s trilogy. The first two titles have
never
been available electronically, and all three have been out of print for some time.
Wahooooooooey!
The first round of Blogger Bundles are set to launch in
January 2010
. They'll be available to purchase over at
eHarlequin
, and one would assume at other ebook retail outlets. I have no idea on cost yet, but going by other historical bundles they offer, my guess is somewhere in the ballpark of $20.