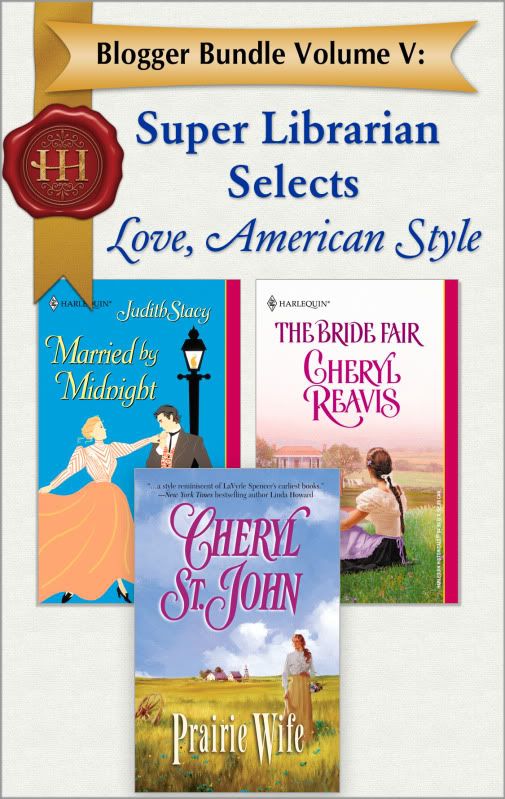 Remember
when I posted about
the upcoming
Cheryl St. John
ebook bundle I proposed to Harlequin? The one coming out in January 2010? I mentioned in that post that I had proposed
three different ideas
for ebook bundles, hoping one would "stick." Turns out - they liked them all!
Coming in
February 2010
is the
Love, American Style
Harlequin Historical bundle! My goal for this bundle was to showcase the diversity that can be found if readers would just
Please For The Love Of My Sanity Read Some American Historicals Already
. In this bundle are three books that have
previously been unavailable
in electronic format.
Prairie Wife
by
Cheryl St. John
- Yes, more St. John. But really, you cannot go wrong with this woman! This is my favorite of her books, an emotionally gut-wrenching, western-set, marriage in trouble story (which I normally don't care for - but holy cow is this a good one!).
The Bride Fair
by
Cheryl Reavis
- Reavis is one of my very favorite Harlequin authors who consistently delivers in her historicals as well as her contemporary-set stories. This one takes place post-Civil War, in the South, and features a Southern heroine with a real dilemma on her hands and the Northern, former POW, commanding officer who has commandeered her family home for the occupying troops.
Married By Midnight
by
Judith Stacy
- This is the story that will lighten up the bundle. Set in late 19th century Los Angeles, the heroine finds herself a bridesmaid for the third time in three months, when she runs up against our hero, a man who broke her heart as a young girl. The hero has entered into a wager with his best friend, and ultimately falls under the heroine's spell - but what happens when the heroine finds out about the wager? Yeah, it doesn't bode well for our hero. Stacy is kind of hit or miss for me, and this one was a
major
hit. It's charming, it's funny, and it's set in Los Angeles. More historicals need to be set in L.A. Says me.
Also, good news via an e-mail bud of mine - she has discovered both of these bundles at the
Kindle Store
over at Amazon. Just go to the Kindle Store and search "super librarian" and they'll both pop up, available for pre-order. Amazon is retailing both bundles for $9.99 and if their list price is anything to go by - they'll be around $14.00 at other ebook retail outlets. Woot!
As for that third bundle I proposed? Given the theme of the bundle, Harlequin has told me they're holding it back for a
Summer 2010
release. And no, I'm not spilling the beans on that one just yet. You'll have to be patient and wait.