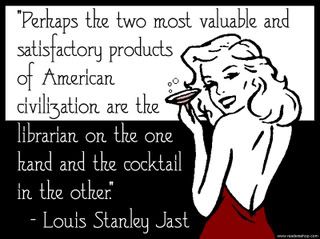 Today marks the
6th anniversary
of
The Misadventures Of Super Librarian
. That's right kiddies, six years of glamor, sophistication, and so much librarian awesomeness that it's illegal in 23 states. (No joke. I even looked it up!)
Which in Internet dog years means I'm positively prehistoric. Maybe I need to start bitching more about you young whippersnappers.
"Why in my day posting a graphic to your blog required a secret handshake. And we didn't even have comments yet. When we did want a comments section, we had to install separate HTML code to get them. And even then nobody was commenting. And we had to walk to school, uphill, both ways, in blinding snow storms with holes in our shoes. And we were happy to have those holey shoes too!"
But seriously, it has been fun. Back when I started blogging (scientists refer to this period as The Dark Ages) I had no idea that my vain little hobby would actually pan out to be much of anything. I started a blog for one reason and one reason only - I like to hear myself talk. Or type as the case may be. I literally just started throwing
shit
stuff up on my own personal Internet wall to see what would stick. I had no grand plan. Hell, I didn't even have a half-assed drunken plan I scribbled down on a cocktail napkin. I winged it. Which is the stellar advice I give to all the young'un baby bloggers crazy enough to e-mail me for "advice" on "how do I get started?"
Yeah, which pretty much makes me no help at all.
But that's how I did it, and it worked for me, so there you go. And because I have no life, I stuck with blogging - even when nobody was reading. Oh, as in the first
two
years. Seriously. But I stuck to my guns, and now I'm the overnight sensation you see standing before you.
Ha ha ha ha ha ha ha ha ha ha ha ha ha!
::wiping tear from corner of eye::
Honestly I amuse the hell out of myself. I'm not sure what's funnier - the "overnight" or the "sensation" part.
Ahem
, so anyway, thanks to everybody who has stopped by over the years. The people who read my blog in spite of the fact that they don't like westerns. The people who don't even read romance novels. The people who really miss the wacky librarian stories I used to tell. And the one or two trolls I've picked up over the years. Yes, I even like you. Mostly because I can't believe I have trolls. My running theory is you got lost on your way to
Dear Author
,
Smart Bitches
or
Karen's
.
I'm not sure what's in store for this blog down the road, only that I have no intention of giving it up. It's mine. My own shiny Internet bauble that sparkles in the sun. Everybody could stop visiting tomorrow, and while I would miss you all terribly, I still wouldn't quit. Because, you know, the whole not having a life thing.
OK, that's enough self-deprecation. Now on with the celebration! Party time! Air kisses and
cosmopolitans
all around! Or Jello shots and keg stands for those of you who swing that way. Either way, keep on truckin'.