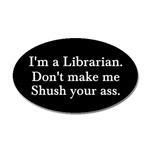 I love it when blog readers e-mail me blog fodder. It makes coming up with posts that much easier!
Anyway, this latest bit of librarian awesomeness comes from regular blog visitor Jenifer by way of my home state of Michigan.
Ann Arbor District Library director Josie Parker may have a pleasant Southern accent and good manners, but don't question her toughness. On Sunday, Parker pursued a thief after he grabbed a collection box of money donated for a local charity called the Family Book Club. In the process, she broke her leg and the thief got away - but not with any money.
Go on with your bad self Josie!
The full article can be
found here
, although it might be best to ignore the more troll-like comments that suggest Josie chasing after the "desperate" thief wasn't the smartest thing to do. OK, probably not. But two things to consider here:
1) Adrenaline
2) The principle of the matter
Stealing from a library is right up there with stealing from a church or taking candy from a baby.
So yeah, I stand by my "go on with your bad self!"