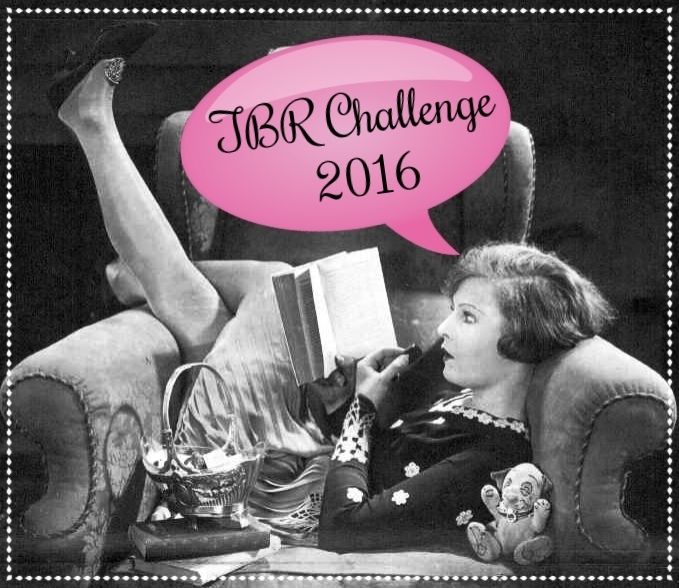 2016 marked the 5th anniversary of me taking over hosting duties for the #TBRChallenge and it was....well, it wasn't a very strong year for me Challenge-wise. While the year started out pretty great (two A grades!), the second half the year was a quagmire of
Meh It's OK, I Suppose
C Grades. It also marked the first time in my five years of hosting that I missed a month.
What does this mean going forward with the 2017 #TBRChallenge? This year, I mean it! I really need to DNF more books out of my TBR. Why am I slogging my way through
Meh, C Reads
when there are undoubtedly hidden gems awaiting me? Also, I really need to stop procrastinating. I could DNF more if I didn't wait until the last minute to pick a book, read said book, and write the dang review.
Anyway
, that's the plan. Let's see how long my good intentions last. In the meantime, let's relive what I read for the 2016 #TBRChallenge:
January - Theme: We Love Short Shorts!
I started off the New Year right, DNF'ing my original pick (a Harlequin Romance that wasn't working for me) in favor of Curveball by Charlotte Stein - an erotic romance novella that totally blew up my skirt. Grade = A-
February - Theme: Series Catch-Up
I read the first book in the trilogy as part of the 2014 TBR Challenge, so it seemed fitting to read book two, A Man Worth Keeping by Molly O'Keefe for 2016's Challenge. Unfortunately, while I loved the continuing on-going family Drama Llama, the romance wasn't nearly as convincing. Grade = C+
March - Theme: Recommended Read
A KristieJ favorite, I finally dug out The Way Home by Megan Chance. This historical western was amazing. I inhaled this almost 500-page book in a mere two days and only came up for air because of The Day Job. Darn working for a living! Grade = A
April - Theme: Contemporary
A completely forgettable erotic romance, My Prerogative by Sasha White. So forgettable that it's probably a good thing I reviewed it should I ever need to dredge up details in the future. Grade = C-
May - Theme: Something Different
I dug one of the few YA romances I had in my TBR for this month, Dirty Little Secret by Jennifer Echols. I loved (LOVED!!!) the Nashville, country music scene world building and the heroine. Was less enthralled by the romance and the hero. Grade = C+
June - Theme: Favorite Trope
So deep is my devotion to the Virgin Hero trope that I'll even read a Fake Country/Royalty book. A Royal World Apart by Maisey Yates is a very solid book in her Harlequin Presents output. Grade = B
July - Theme: Award Nominee or Winner
The month I skipped. Because I suck. Part of the blame was the RWA Conference, the other part was that work was nutso insane for me in July.
August - Theme: Kicking It Old School
I love, love, love Jessica Hart's Harlequin Romances, which is how I had No Mistaking Love (1993) in my TBR. While the writing was pure Hart (loved it!), and I really liked the heroine - the hero was pure Throwback Alphahole. Grade = D+
September - Theme: Random Pick
Ever get thrown by the "tone" of a book? That was me with The Cowboy Way by Anna Alexander. It was like this weird hybrid of a Harlequin Western (formerly American line) and an erotic romance. It was just....odd. Grade = C-
October - Theme: Paranormal or Romantic Suspense
It's a sad tale of woe when a book starts out great and fizzles at the finish line. Agent Bride by Beverly Long had a compelling suspense thread that died at the end and a romance that never really got off the ground. But it made for great airplane reading. Grade = C
November - Theme: Historical
December - Theme: Holiday
We wish you a very meh Christmas. Come Home for Christmas by Pat Pritchard was a serviceable read, but with no deep dive into the characters' internal baggage and the tortoise-like pace of the romance this one never registered above OK for me. Grade = C
Kids, that leaves Auntie Wendy with 2 A's, 1 B, 6 (!) C's and 2 D's. Excuse me while I go put my head in the oven. No seriously, this is totally why I need to stop procrastinating and DNF more! All those C's are totally unacceptable - and only ONE B?! Ugh.