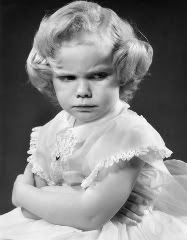 Yes, I am well aware
Dearest Bat Cave Visitors and Honored Guests
that we all need another "post about blogging" like we need a hole in the head - and yet, here we are. These days, when it comes to Little Miss Crabby Pants breaking out of her self-imposed silence it's usually not over any
one
thing, rather a culmination of several things that end up swirling around in my brain for...
well
, a while.
It all started with the fairly recent phenomenon I've seen cropping up around social media - mostly on Facebook, but I think it's been floating around on blogs, web sites and Twitter as well. The posts that go something like
I'm An Author And This Is What You, Dear Reader, Can Do To Help Support Authors/Me
- and then it devolves into a list of things like posting reviews on Amazon, putting books on your various GoodReads shelves
yada yada yada
. And while it's not always boldly spelled out, it's implied that we're talking
Squee-Worthy This Book Is Awesome Sauce
chatter only. If you desire to post a genuine not-so-hot or this-was-blah review just ignore the Author's/Publicist's/Publisher's pleas
thankyouverymuch
.
Then, BEA happened. For those that aren't aware -
BEA
or BookExpo America is a
Big Ol' Convention
for
Industry Professionals
. So publishers, booksellers, librarians and in the past several years more readers and bloggers have been attending the event. BEA is a Book Orgy. Seriously. All kinds of books. All reading levels. All genres.
Book. Orgy.
Ergo, there are a ton of ARCs and it usually takes 12 hours after the event ends for people to pop up on social media to gripe about "greedy bloggers selling ARCs."
Always
bloggers. Booksellers, librarians and publishing employees never seem to get accused
#shockednotshocked
I'm going to state the obvious upfront: I'm old. I've been book blogging since 2003 and I started reviewing for The Romance Reader (RIP) in 1999.
Old
. This is going to sound very
Damn Kids Get Off My Lawn
, but blogging truly was more pure back then because it was
easier
to keep it pure. As more and more people began blogging (which, yippeee!), the industry took notice. They saw it as a way to harness that elusive marketing tool, "word of mouth" and relationships began forming.
Now lest you all think I'm going to talk about "corruption" and how
Big Publishing Ruined Blogging
-
bloggers couldn't run fast enough
through that open door that publishers were holding open for us. Free books?! OMG, I can get ARCs of coveted books I'm DYING to read?!?! Sign me up! So what publishers and authors got, essentially, was an extension of their PR departments and all they had to do was pay us in free books. Granted those books
aren't
free to the publishers. They need to produce them. They need to mail them out (although now that we have digital I imagine postage costs are down). But they're not paying bloggers a salary, benefits, putting money into our 401Ks
yada yada yada
. So really, it's a bargain for them.

Subconsciously, even if we didn't acknowledge this, I think bloggers realized we were working for free. So we monetized. Getting "paid" in free books isn't going to cover things like web hosting, postage, not to mention time and labor. Blogging is a hobby for a good many bloggers, but it can be an expensive one. How much blogs monetized has varied wildly. It ranges from the larger blogs joining multiple affiliate programs and selling ad space to quirky individual bloggers who have stayed relatively ad free.
This post is my way of issuing a reality check. To publishers, to publicists, to authors and to bloggers. I have monetized this blog, but like most things in my life I've done it kind of half-assed. I earn money through my blogging two ways: 1) I'm a member of Amazon's Affiliate program and 2) I blog at
Heroes & Heartbreakers
. The only expenses I have are my time and energy. I've stayed on
Blogger
all these years (since 2003) because it's 1) easy and 2) free. Would I have a larger reach if I paid for web hosting and spiffed up my blog? Sure. But 1) easy 2) free and 3) I'm from the Midwest and bleed frugality.
In 2015 my blogging, my online "presence" if you will, earned me $683. Granted, $683 is $683. It's nothing to sneeze at. But what can one do with $683? I don't have kids - so while it doesn't come close to covering one month's rent, it would cover my grocery bills for a while. It covers RWA conference registration and a night in the hotel. But I'm not going to live off this money. It's "mad money." It would pay my electric bill for several months, but it also means that if I didn't have another source of income (hello, Day Job!), my blogging (such as it is) isn't going to keep me financially afloat.
Not by a long shot.
I can only speak for me, and granted I've never made moves to take my blog "big time." So what I earn? That's been my choice. I started doing what I do because I love the romance genre, I love reading, I love the community and I want to share that love with other people. I didn't start this gig to
Get Rich Or Die Tryin'
and it's not why I've kept doing it all these years. So please do not confuse my $683 with whining.
I'm not whining
. If I wanted to make more money off my blog I probably could. I'm also not saying it's OK for people to sell ARCs online or in their bookstores or on the local street corner either. I'm just saying - slow your roll and let's all have a reality check.
Bloggers do what we do because we love it and yes, we truly do want to support authors - and by extension publishing as a whole.
But this is a two-way street folks
. Telling us "how you can support authors" can often smack of
What Have You Done For Me Lately
? And just as authors sometimes sit behind their computer monitors, feeling isolated, pondering "Why do I do this?" Newsflash: bloggers think that to. We're not doing it for the money, we're doing it for the love. But even
The Collective Blogging We
can feel taken for granted, discouraged, and overlooked. You know how great you feel when you get a gushing fan letter in your e-mail? Nothing cranks my handle more than when somebody says, "I read this book based on Wendy's recommendation and OMG IT WAS SO GOOD THE BOOK AND I ARE PLANNING ON ELOPING!!!!"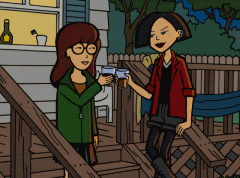 Am I suggesting we all hold hands and sing Kumbaya? Ha!
No
. What I am saying is that every once in a while a reality check is in order. Bloggers love getting ARCs, we love talking about books, none of that will change. But....
two way street
. It's terribly easy to sit behind your computer monitor and rant about the latest whatever that's going on - but somehow it's not quite as easy for us to express how much we appreciate each other. For better or worse, this is a symbiotic relationship. I think that's worth some reflection...at least until the next brouhaha blows up.