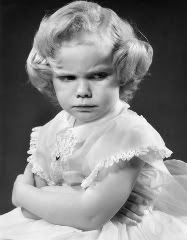 Well that didn't take long. Back from RT for a grand total of 24 hours and already our first controversy. I tend to avoid addressing most post-con controversies but in this instance Little Miss Crabby Pants feels like she has something to say. Because...of course she does.
The brouhaha involves a publisher that attended this year called Clean Reads (and no I'm not linking). They handed out "Clean Reads" buttons at the Giant Book Fair and attendees wearing one had the opportunity to win cool free stuff - I believe Kindle Fires were involved. So,
naturally
, many folks started walking around sporting those buttons.
What makes this problematic? The fact that the publisher has very definite ideas on what constitutes a "clean read." I'll direct you
to this blog post
by author
Rick R. Reed
, but in a nutshell? "Clean" does not apply to LGBTQ.
There's a lot going on here, so let's start with the obvious. The implication that if you're LGBTQ you are somehow "not clean" or "dirty" is....
really not cool
. Also fairly obvious and problematic is the implication that all media (this includes books) that feature LGBTQ characters is somehow pedal-to-the-metal erotica (this is a long-standing pet peeve of mine). Which...hello, it's not. For me it's the exact same thing as when people think romance novels are all about sex and that all romance novels have sex in them. Which we all know...isn't true either.
LGBTQ does not = "dirty" or "unclean"
LGBTQ does not automatically = erotica or erotic romance
Sex does not = "unclean" or "bad" or "wrong."
Hey, if we're all created in God's image I'm pretty sure the big guy upstairs is pretty OK with sex. I mean, she'd have to be...right?
What I fear will get lost in this discussion, and what I fear will happen, is that readers who
like
reads that are sweet, gentle, non-explicit, whatever-the-heck-you-want-to-call-them, will get lumped into the fray as being "a problem." Also, and this could just be the Twitter vacuum I live in, that somehow people who like non-explicit reads think erotic romance or erotica is the devil. Some of them do, but guess what?
Some of them don't
. It's always been too easy and tempting by some parties to lump romance readers into "one thing."
Oh, you like LGBTQ? You must hate Inspirational romances. Oh, you like hot erotic romance? You must want sex in ALL your books.
It's true, some readers do like to stay in their lane and not veer off on to unfamiliar dirt roads to explore the countryside. But,
in my experience
, I find this to not be the norm in Romancelandia. I can only truly speak for myself, but I love erotic romance and erotica.
Love it!
But I also love plenty of authors who keep the bedroom door firmly shut and whose characters never utter a curse word. I've even been known to read books on both ends of the spectrum back-to-back (two authors I really dig?
Charlotte Stein
and
Deeanne Gist
. They both do great tension, but that's the only similarity between the two....trust me).
The problem continues to be discoverability. Just as I don't want readers shamed for loving erotic romance or erotica, I don't want them shamed for wanting the author to keep that bedroom door shut.
However we live in a society that cannot seem to function without labels and the book world is consumed by them
.
The trick is how to identify those non-explicit reads for people who want them without resorting to a publishing model that endorses bigotry
. And I think if you asked people who liked non-explicit reads? You'd find a great many of them aren't intolerant people. They don't think LGBTQ somehow denotes "explicit" because, guess what? It doesn't. I also think you'd find many of them interested in non-explicit books that feature LGBTQ characters. If nothing else, I'm interested! (hint, hint)
This, for me, is another example of a widening divide. Non-explicit reads are getting lumped into inspirational by default which is a disservice for non-explicit readers who don't want Christian themes and for Christian readers actively looking for Christian themes. But in a world where we're obsessed with labels? Coming up with labels or various genre cues is tricky. Words like "clean" and "wholesome" are judgmental. "Sweet" can mean anything from "no sex" to "charming" to "cloyingly saccharine." I like "gentle" but am really not in love with it. "Non-Explicit" seems....awkward. And yes, there is a difference between "chaste" and "closed door."
At this point I'm thinking authors writing non-explicit books need to resort to putting cats on their book covers. Hey, it worked for cozy mysteries! Even when the story in question doesn't have a cat in it!
This is an instance where I really don't have a good answer and it's a topic which, as a librarian, I struggle with
constantly
. Just as there are folks who don't like action movies because they don't like to watch violence? There are folks who like non-explicit reads - not because they are narrow-minded or bigoted - but because they don't want to read about sex, violence and/or curse words. And you know what? There's nothing wrong with that. But there has to be a way to identify those books without excluding the LGBTQ community and implying that they, and sex in general, are "dirty" or "wrong."