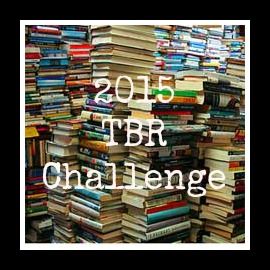 Now that the calendar has turned, it's time for me to look back at my reading year that was 2015. To kick things off, I'd like to recap last year's TBR Challenge.
I took over hosting duties in 2011 from
Keishon
and wow, I can't believe it's been four years already! I host the challenge for several reasons, but the big two are: 1) it forces me to read something out the print pile at least once a month and 2) it's a guaranteed day in Romancelandia where we can kick back and learn/talk/read about "older" books.
I always say the monthly themes are optional, but as hostess I do my best to follow them.
Title links will take you to full-length reviews
.
January
(We Love Short Shorts!) -
Dishing It Out by Molly O'Keefe - Grade = B-
An early category from O'Keefe published under Harlequin's defunct rom/com Flipside line. A nice read, an interesting one for fans.
February
(Recommended Read) -
Precious and Fragile Things by Megan Hart - Grade = C+
Hart's first foray into "general fiction." I was enjoying it, even though I felt like I wasn't the intended audience until...the ending. There's a twist at the end that frankly smacked me as piling on completely unnecessary angst.
March
(Series Catch-up) -
Sins of a Wicked Princess by Anna Randol - Grade = D+
I loved the first book in this trilogy, the second was meh, and this one was borderline dumpster fire.
April
(Contemporary) -
Double Down by Katie Porter - Grade = C+
Sexy, fun erotic romance featuring a kink that does not feature the letters B, D, S or M. Pretty light on conflict though.
May
(Kickin' It Old School) -
A Soldier's Heart by Kathleen Korbel - Grade = A-
20 year old category romance featuring a former Army nurse heroine with PTSD and a couple in their 40s (!). A few, small dated references (hello, car phones!) - but stands the test of time amazingly well.
June
(Author With More Than One Book in TBR) -
The Last Woman He'd Ever Date by Liz Fielding - Grade = B-
A perfectly pleasant and frothy rom/com style read. Biggest quibble was pacing issues and a meet-cute that dragged on a bit too long.
July
(Lovely RITA) -
Crazy Thing Called Love by Molly O'Keefe - Grade = A
-
What started as a perfectly serviceable single title contemporary featuring a wound-tight heroine and an NHL bad boy hero takes an amazing turn in the second half. I didn't read it so much as inhale it in one gulp and stayed up way too late on a "school night" to read it start to finish.
August (Impulse Read) -
A string of DNFs and finally Snapped by Christine D'Abo - Grades = DNFs and C+
The less said about this month the better. After four DNFs, I finally settled on a novella I picked up at July's RWA conference in NYC. It wasn't without issues, but I finished it. Which frankly seemed like a small miracle.
September
(Historical) -
Nobody's Darling by Teresa Medeiros - Grade = B-
A book that I should have read 10 years ago so I could have given an "A" to it. Well-written, entertaining, but there are some problematic elements that Jaded Wendy Romance Reader couldn't look past.
October
(Paranormal or Romantic Suspense) -
Impulse by JoAnn Ross - Grade = D+
Come dine at The Character Trope Smorgasbord, stay to revel in an everything and the kitchen sink plot, and some awkward writing sequences that stopped me cold. Silver lining = it was a quick, fast read. God bless short chapters.
November
(It's All About the Hype) -
Glitterland by Alexis Hall - Grade = B+
I found this a bit wordy (which makes sense to the story but still...wordy). Also one of the heroes speaks in the vernacular and that takes some getting used to. Otherwise? I really enjoyed this one. Heartbreaking, emotional, and a great grovel scene at the end.
December
(Holiday Read) -
A Christmas Waltz by Jane Goodger - Grade = B
Not without some issues, but I really enjoyed this western historical about a heroine who finds out her beloved is a lying snake and ends up falling for his stoic older brother.
I finished off the 2015 TBR Challenge with 2 A's, 5 B's, 3 C's, 2 D's and 4 DNF's. In hindsight I really need to do a better job of giving myself enough lead time with this challenge to allow myself to DNF more. But 2 A's and 5 B's is nothing to sneeze at.
I had a great time (once again!) hosting the challenge and it's certainly not too late to consider signing up for the 2016 TBR Challenge!
For more information and details on how to sign-up, please check out this blog post.