Back in the day, when I wasn't seemingly exhausted all the time and could string semi-coherent sentences together to create interesting blog posts (no comment from the peanut gallery...), I would routinely put together chatty round-up style posts about what was going on in my life. Hey, you're reading a one-person blog here. Come for the narcissism, stay for the occasional romance novel reviews! So what's going on at the Bat Cave these days? Oh my, what isn't?
+++++
Good Old-Fashioned Midwestern Worker Bee
, so it's nice to be appreciated and to have my superiors believe in my abilities. On the other hand? There are days I sit in my new office and think to myself,
"Self, what made you ever think you could possibly do this?!"
And then there are days when I feel like the master of my own universe. Which I figure is just about par for the course whenever one takes on a new job, new responsibilities
yada yada yada
.
On top of this I just found out last week I've been tapped for a "leadership program." Which means - more work. I know this blog hasn't been a hotbed of scintillating content of late, and while I LOVE my new job and am SO HAPPY I made the switch a little over a year ago now.....
I'm exhausted. Not gonna lie. I'm going to try to not have the blog dip down to one post a week, but this fall? It could happen. Seriously. Busy, busy worker bee thy name is Wendy.
+++++
Last Place In Their Division Detroit Tigers
. Needless to say my baseball watching has mostly come to a close this season (there's masochism and then there's self-loathing) - although My Man is starting to watch more of his suddenly relevant Toronto Blue Jays and his favorite childhood team, the New York Mets. So it's not a totally
Baseball Free Zone
at the Bat Cave just yet.
In light of my team imploding, I've taken to binge-watching
Archer
, an
adult
cartoon from the fine folks at FX. My Man got hooked on it while I was away at a conference this summer and when I got home I got sucked down the same rabbit hole. I've been binging via Amazon Prime and just started Season Four. Favorite episode so far?
The Man From Jupiter
from Season 3 which guest-stars Burt Reynolds. I loved everything about that episode.
+++++
latest Unusual Historicals post
went up last week over at
Heroes & Heartbreakers
. A lot of
Takes Place In England But Some Slightly Different Elements For A Change
books. Also, an appearance from The Dark Ages and some American settings (including two westerns). Head on over and
check out the shopping list
.
+++++
I haven't been very active in my usual Romance Land haunts of late because I'm finding myself more easily irritated than usual. As in grabbing my computer monitor, shaking it senseless and sputtering,
"Why?! Why?! WHY!?!?!?!?!?!?!"
As I see it there are a few possible solutions to this conundrum for me: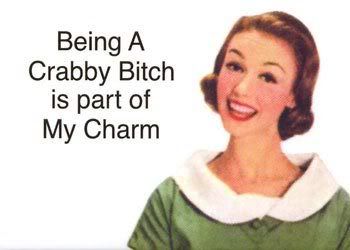 1) I start writing scathing blog posts that would make Little Miss Crabby Pants blush and possibly alienate folks.
2) I swallow my irritation into a tight ball of rage and limit my time online for the sake of my own sanity.
3) I learn to let it go like everyone else seems to have done and instead write passive aggressive blog posts like this one.
Oh...wait a second....
Given that my Real Life is very full at the moment, and I'm still struggling to find some sort of reading groove, it's just easier for me to take the easy way out and lurk on certain corners of the Interwebs for a while. Or, you know, just not visit at all. Otherwise we're back to
Passive Aggressive Wendy
, and Lord, even
I
don't
like
her.
+++++
meh
. I used to really
like
football, but it's been on a downhill slide for me since the
New Orleans Bounty-Gate
fiasco which I found so repugnant that it makes my brain hurt. Then there's the whole concussion thing. Then there's the domestic violence thing. Then there's the fact that I think the commissioner is a scumbag and I had to spend the whole off-season hearing about Tom Brady's
deflated balls
and honestly? Tom Brady is a scumbag (IMHO). So hearing about two scumbags fighting over deflated balls?
Yeah, I'm out.
On the bright side, maybe while My Man is watching football Wendy will actually get some reading done? Hey, anything is possible, right?
+++++
Lord, that was a big ol' pile of cranky. Let's blame the heat, shall we? The Bat Cave is located at the center of Hell at the moment, I'm convinced of it. Days on end of 100+ heat. As in, after dark - Wendy's going to bed - and it's still like 90 degrees outside. I'm completely and totally
over
it. And it's obviously making me a crankier crank than usual....which is just
scary
.