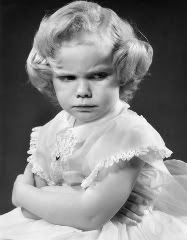 I've been stewing on this post idea for a while and as I told a fellow blogger in an e-mail exchange recently,
"I'll only write it once I can get past the use of swear words and keep the explanation points to a minimum."
I've finally seem to have landed in a perfect storm however – between recent brouhahas in RomLand, a workshop proposal I'm a part of for the upcoming RT Convention about "voice" and blogging (let's see if it gets accepted) and various Twitter conversations I've been unabashedly eavesdropping on, but have not participated in.
I have definite feelings about how the romance community is operating these days. I've talked about it at a bare minimum
for reasons
– most of them involving beating dead horses and coming off like the cranky granny sitting on her front porch with a shotgun telling the damn kids to get off her lawn. When you've been around as long as I have you're kind of in a quandary with stuff like this, plus I've never been one to believe my own hype. Call it
Middle Child Syndrome
. I still go to conferences these days and just assume that nobody knows who the heck I am. My blog is one tiny corner of the community and I'm more than aware that not everybody 1) reads it or 2) knows I exist. Even if I do have people around me who think I'm some sort of "influencer" in the world of romance novels. Wendy thinks that Wendy isn't that important and my feet stink just like everybody else's. Translation: Wendy is not a special snowflake.
I have strong opinions about things that have happened in my corner of the community over the last several years. The ones I react strongest to are the ones that have me asking,
"How would I feel if someone else's snafu sucked me up in its wake and reflected badly on me – when I really didn't do anything wrong?"
Online RomLand largely exists on the (mostly) unpaid talent of the fans. And when we are paid (like I am for my
H&H
posts), it's kind of the equivalent of play money (I can support my book habit, maybe pay a conference registration fee – but I'm not feeding my family on it). Which begs the question of why do we do it? I can tell you why I do it, but it's not necessarily why everybody else does it – and it's up to the individual reader to determine, at the end of the day, what really matters to them.
When I started blogging I didn't do it for fame or glory – which is probably a good thing since neither has found me. OK, RWA gave me that nice Librarian of the Year honor in 2011 and My Man does call it my "National Award" – but yeah. To be fair, I haven't done any of the hard work one needs to do to gain fame or glory, but since it's not why I started and not why I'm still doing it 12 years after the fact I'm obviously OK with this.
I started blogging because I love to talk about books, especially romance novels, and I had no way to scratch that itch outside of listservs (remember those?) back in 2003. I didn't want to be one of
those people
who "took over" on the listserv so figured blogging was a good solution.
All of the Wendy Narcissism All of the Time
and people could decide for themselves if they really wanted to subject themselves to that. I've always operated the blog using my own moral compass, but as time has marched on, and things have changed (for one thing, authors and publishers noticed that blogs were easy and cheap marketing tools), I've had to be
a bit more firm with disclosure
. Why? Because I feel like I owe it to anyone who reads my blog. Yes, dear blog reader – I
OWE
it to you.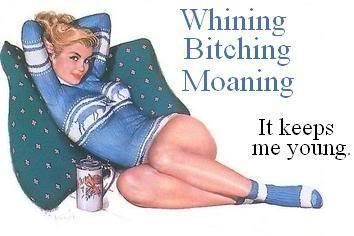 Here's the thing about this gig.
You're only as good as your word
. Yes, it's the Internet and yes, seemingly everybody lies on the Internet. Trolling is practically an Olympic sport. It's easy to point fingers and grab your popcorn when you're hiding behind a keyboard. I strive to be pleasant to everybody. Even when I think you've left the figurative bathroom with your skirt tucked up in the back of your panties. The idea of a "cut direct?" I'm from the Midwest. I'm pretty sure my DNA makes me incapable. That doesn't mean I think
Everybody Should Love Everybody
.
Nobody is immune to being called out
– even
Little Miss Crabby Pants
, and I'm
sure
I have been called out online and in public over the years. Hey, that's OK.
You can think I'm wrong
. You can also choose to not read anything I have to say….
anywhere
. The Internet is a wide and vast place. I think everybody should spend their time at places where they want to be – not at sites or interacting with folks on Twitter that are the equivalent of having a root canal done.
At the end of the day you are your own barometer. How folks carry themselves online, how they run their blogs, how they run their sites, how they interact with publishers/authors/publicists? These are things you need to decide for yourself. If something bothers you – how are you going to proceed? Will you stop reading that blog or taking recommendations from that person on Twitter? Or will the benefits outweigh the squirkiness for you? You need to find your line in the sand. Over the years I've found mine – over and over again. I don't publicly spout off what they are on this blog, because frankly I don't think anyone really cares that much. Also there's the very really perception that
Wendy Is Just Blogging About This To Beat Dead Horses and Raise Blog Traffic
. But for the sake of transparency, here are things I have done over the years:
1) I've stopped reading some blogs. As in, deleted out of my feed reader because I could not be bothered anymore. In most cases they were blogs I largely lurked at anyway so it wasn't a major bloodletting.
2) One author so offended me that I weeded every single one of her books that I owned. Both TBR and books in the keeper stash. I bought them all brand new, so she already got my money – but, done. I'm out. I donated them to a library. Hopefully the Friends of the Library raised some money for "good."
3) There's a certain publisher I won't buy books from or promote on this blog. This sucks because I like some of the authors they publish. Oh well.
4) I still read some blogs (mostly because of specific features I like) but no longer link to them (hence, no promo from me) and no longer comment.
5) There are some folks I will not take book recommendations from any longer. If I was planning on reading the book anyway? Fine. Will they sway me to buy/try a book? That ship has sailed.
At the end of the day does any of this really matter? No. I'm sure the blogs don't miss me and to be perfectly frank – my sphere of influence is such that I can't believe either the author or publisher are wringing their hands over me not being in their camp. But
it does matter to me
. It also matters to me that readers of this blog know what they're going to get when they get here.
This is why I have the disclosure page
. This is why I
disclose
before
some
reviews by certain authors. You can make the argument I shouldn't have formed some of these relationships to begin with – and that's your right. But I like these relationships and I don't want to quit them. This means – disclosure. And you, dear blog reader, with making up your own mind.
I don't think we need personal manifestos of
Who I Trust
and
What Blogs I Read
, and that probably includes me writing this post. But at the end of the day you can only control you. Find your line in the sand and draw it. Some people will be on the other side of that line, and that's OK. The Internet is a lot of things – big is one of them.