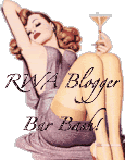 Today's the day! I'm on my way to
RWA
in New York City! For those of you looking for me this week, here are the places I guarantee I'll be: At all the librarian shenanigans on Wednesday, making the rounds
at the Literacy Signing
,
and afterward
I'll be in the conference hotel bar sorta, kinda hosting (but not really) a get-together for online folks to stop by, say hello, have a few drinks, have a few laughs.
If you've got time after the Literary Signing, swing by the bar and track us down
. We never have any set "end time" - just whenever everybody is so tired they head upstairs to the their room to crash.
I'm going to try to blog while I'm in New York (
ha ha ha ha!
). Some years I do better than others. My goal this year? Try to blog a couple of times and not lose my voice (I ALWAYS lose my voice at conference. ALWAYS.) See in the Big Apple Romancelandia!