It has been over a week since I've blogged. It's hard to say without wading through 11 years worth of archives, but this might be a new record of inactivity. So what have I been up to since I obviously have not been blogging?
Or reading for that matter.
Well, I'm mired in a slump. Blogging. Reading. A Why The Heck Am I Still Doing This When Nobody Obviously Really Cares That I'm Here And No I'm Not Self-Absorbed Why Do You Ask? slump.
It's been a lot of little and not-so-little events that have led to my current simmering case of ennui. Take your pick of any of the Hale fallout (the misinformation regarding the #bloggerblackout, RT nominating
Hale for Book of the Year
, being personally compared to the Taliban by an author who I had in my keeper stash
yada, yada, yada
). I've known for some time that my blog is a wee tiny lil' cog in a giant publishing machine, and at the end of the day if I vanished from the Earth tomorrow, that things would carry on as they've always carried on.

But it's one thing to know that and another to have people back-hand you across the face with it.
So yes. I was feeling sorry for myself. So sue me. It happens.
Then I had two aunts pass away (Dad's sister from cancer, Mom's sister from dementia and other health issues) within 24 hours of each other. To say I've been worried and upset for my parents is an understatement. Coupled with that, both of these aunts were the nicest, most giving women you would ever have met. I hope heaven does exist, because if ever two women deserved heaven it was my two aunts.
And work. Which is actually going great - it's just been really busy. Long hours, lots to do, and after I hit the yoga studio (yes, I'm back on the yoga train) two nights during the week I'm a mentally exhausted heap that needs to be scraped off the Bat Cave carpet.
Please pass the cheese, I think that might be all of the whine.
I know I need to make changes around here. Mostly for my own sanity. I'm just not sure how to do that. I think for the time being I'm going to stop beating myself over the Giant ARC Pile That Can Be Seen From Space and just get to stuff when I get to it. Then I think I'm going to try to find a way to love books again. Now I did order several ebooks during Harlequin's Black Friday sale - and that helped. But I also need to read something really great - which hello, I know I have great books waiting for me in the Giant ARC Pile That Can Be Seen From Space, so that's not a problem. I'm also going to try to make a more concerted effort to comment on other blogs more. I love it when people comment on my blog, I need to return the favor.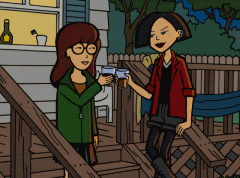 I need to find My People again. I know you're all out there. I think we just lost each other for a tiny bit. Hey, it's understandable. There's been a lot of unpleasantness flying around of late. In our tiny space of the Interwebs, not to mention outside current events, add a dash of holiday madness, and is it any wonder we're all tempted to fill some sand bags and hunker down in our personal bunkers?
I'm going to try to pull my head out of the sand. I'm going to try to find my space again. Because frankly? It kind of stinks feeling like this.
I'm kinda over it.