After weeks of waiting, I finally get to write the blog post I've been
dying
to write. After ten years with my current employer in various roles (branch manager, materials evaluator, now public services-slash-materials evaluator), I have accepted a new position with a new employer.
Now my policy on the blog is never to name my employer "outright." I don't hide it, but I also don't shout it from the rooftops. So that will continue with this "new job." What I can tell you is that I'll be staying in the same geographic area, working for a large library system, and I will be the new head of their collection development department. What does this mean? Right now I put together order lists of adult fiction for my current employer and select materials specifically for the library branch I work at. Starting on May 19, I will give that up - with some sadness because holy cow I love me adult fiction. What I will be doing instead is overseeing the entire collection management department for a very large library system. No more buying for Wendy. Instead Wendy will be overseeing the whole shebang.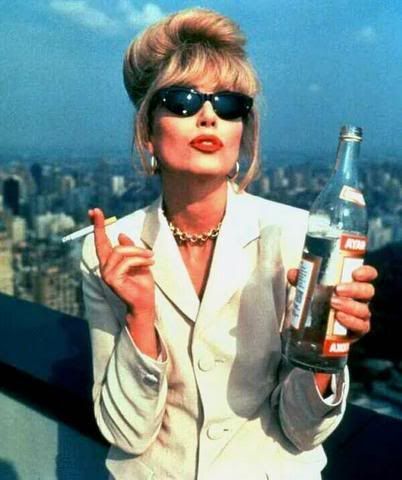 Wendy is now officially drunk with power.
This has been a bit of a roller coaster since February. I had applied for the job late last year and when I didn't hear anything back I figured, "Oh well, they're not interested." Then around President's Day here in the States I got a call for a screening interview. I went to said interview and no lie, left there feeling like I bombed it. I didn't have a good feeling coming out of that interview, at all. So I was pretty shocked when just a few days later I got a call about a second interview.
By this point My Man and I had to have a "come to Jesus" moment. When I started working as a librarian 15 years ago (where has the time gone?), I was pretty adamant about not getting into administration. Honestly, I thought I'd be pretty terrible at it and it's also not why I got into the profession in the first place. Well now here I was interviewing for a job that would very much be "administration." My Man wanted to make sure I was doing this for the "right reasons." Jumping the gun maybe since I hadn't had the second interview yet? Probably. But he wanted me prepared and he wanted me to really think about it. Which I did, after talking around in circles for a while because, this is me we're talking about. Talking around in circles is just what I do.
As sure as I was that I bombed that first interview, I left the second interview feeling pretty fan-freaking-tastic. I've never nailed an interview more in my life. I went straight into work and met privately with my boss. At that point I hadn't told him about the first interview because why upset the apple cart if it turns out to be nothing? Well, probably a good thing I met with him right away because as we were wrapping up he got a phone call that was a reference check.
Bingo-bango, everything was set in motion. It just turned out to be slow-moving and going uphill. Hoops. Lots of hoops. I've been dying to spill this news for weeks now, but alas, offer not official until it's in writing and the salary package took some time.

I'm super excited, mostly because it means getting to work full-time, all-the-time in collection management again. It also means I'll be in charge of overseeing what I'm most passionate about in this profession for a very large library system. At the end of the day, collection is everything. It's the backbone of everything libraries do. I can't wait to jump into the thick of it again.