So it's been a little quiet around the Bat Cave this week, and the three of you who read this blog will likely notice this trend continuing over the next few weeks. Why? Well, here it goes....
+++++

One of the things that
Jennifer Lohmann
and I brought up during our Librarians Day presentation at RWA last month was working with your local RWA chapters. And by working with - this means developing a two-way street. Nobody likes someone who just takes, takes, takes. So in the
Practicing What I Preach
department, I am the "Top Pick" judge for
OCCRWA
's annual "published authors" contest called
Book Buyer's Best
. I've actually judged in this contest before, as a first rounder - and contest judging is a good way of seeing what else is "out there" - essentially forcing me to escape my narrow little realm of category, historical and erotic romance. Also in
Professional Librarian Speak
- it's good for reader's advisory.
My job is to read the nine finalists (the top scores in all nine of the categories) and pick the "Top Pick" or the "best one" as it were. It's been a lot of fun - but this also means that I really am not comfortable talking about these books until after the contest is over and after OCCRWA makes the final announcement (I believe at their October meeting - which is also their anniversary celebration). I'm pretty easy to track down via the Internet, and certainly I don't want to spoil it for anybody - but especially the authors whose books I'm currently wading through. Right now I'm toying with the idea of doing a "round-up" style post after the contest is well and truly over. Because, you know, I got things to say. And asking me to not talk about books is
keeeeeeling
me!
+++++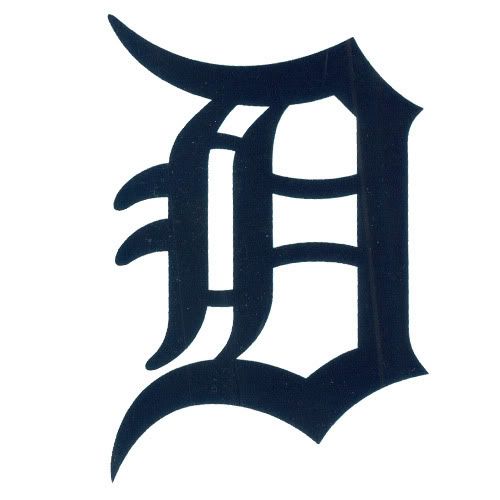 My
Detroit Tigers
have now won 12 games in a row. It's all baseball all the time around here. Well except now that.....
+++++
Pre-season football has started. My Man, it should be noted, is a major NFL fan despite the fact that we're both
Buffalo Bills
fans. Being a Bills fan tends to require a fair amount of alcohol, a healthy dose of Buffalo wings, and usually ends with a lot of rocking back and forth in the corner while wailing,
"Why, why, why?!?!?!?!"
over and over again.
Which means Wendy is, once again, on the hunt for
A Bandwagon Team
. Which might cause some of you to think I'm not a "true fan" if I'm already looking for a bandwagon. No, I'm a fan. I'm just not, you know, a masochist. And there's going to be more talent out tailgating in the Bills parking lot this season than on the actual field - so yeah. Wendy needs a bandwagon.
It can't be the
Lions
. Yes, yes, I'm from Michigan. Which is why it can't be the Lions. Never has a team had more talent and sucked so badly. It's like they're a self-fulfilling prophecy of suckitude. And it can't be the
Saints
. Even though the Saints had been my
bandwagon du jour
since Hurricane Katrina. I love you
Drew Brees
but that whole
Bounty Gate
thing? So vile and deplorable that I can't condone it by planting my butt on your bandwagon. (
Sean Peyton
should thank his lucky stars he wasn't "suspended indefinitely" like
Gregg Williams
. Dude, that happened on YOUR watch. They should have thrown away the key.)

So where does this leave me? Right now, possibly
Seattle
- even though I have this irrational dislike for
Pete Carroll
. They have a Mighty-Mite for a quarterback (the listed-at 5'11"
Russell Wilson
) and they have Beast-Mode running back
Marshawn Lynch
. So yeah, maybe Seattle. So long as Pete Carroll stays off-camera
a lot
.
+++++
And finally, I'm taking my annual sojourn to Michigan later next week. Which, now that I'm wading through contest books, couldn't have come at a better time. It's amazing how much I get read when I'm either 1) stuck at an airport or 2) stuck on an airplane. The plan, such as it is, is to enjoy the fact that I'm off work, on vacation, have a chance to watch baseball with my Dad, and hopefully secure a mess of uninterrupted reading time.
It's the simple things. Really, it is.