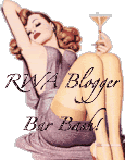 RWA 2013 in Atlanta is now a mere two weeks away, which means it's time for Wendy to really start putting her dance card together. I got an e-mail yesterday inquiring if there was going to be a Blogger Bar Bash this year, and oh hey - what the hell? Yes, yes there will be!
The
Smart Bitches are hosting a wing-ding Wednesday evening
after the Literacy Signing, so to avoid creating conflict - the
Blogger Bar Bash will be Thursday, June 18 at 7PM in the conference hotel bar (Atlanta Marriott Marquis)
. And it will last.....for as long as it lasts.
For those of you unfamiliar, the Blogger Bar Bash is so named because I'm a librarian and I like alliteration. Everyone,
absolutely everyone
, is welcome to stop and by, have a drink, say hello, and chat about books.
This is not a blogger-exclusive affair
. Navy SEALs, secret babies, cowboys, amnesiac billionaires and even Fabio are all welcome.
So if your dance card isn't already booked solid for Thursday evening, I hope you'll swing on by - even if it's just for a quick hello. See you all in Atlanta!