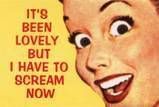 It's been one of those weeks. You know, where you might look all calm and collected on the outside, going through your life, but on the inside there is a crazed shrieking woman living in your skull?
Anyone? Anyone? Seriously, this can't just happen to me.
So yeah, one of those weeks. I'm chalking it all up to working too many days in a row, being tired, and feeling mopey for no other reason than I'm a woman and dagnabit-all we get mopey every once in a while. Just learn to live with it cupcake. However, I did get some good news at work this week and my boss is pleased with me (at the moment) - so I thought we'd talk about
The Time Wendy Relocated The Romance Paperback Collection
.
Not my library, but you get the idea
The library where I was transferred to late last year used to have all the romance paperbacks in spinner racks. For the record, I
loathe
spinner racks. Also, for the record, I hate it when a library breaks out their shelves by genre. One, I think it marginalizes your collection(s). Sort of like putting your genres in a "shelving ghetto." Also, I'll be honest, I feel the library is the last place on Earth where someone should be, or feel the need to be, "in a hurry." A library should be a sanctuary. A place to browse. A place to wander. A place to spend some time. Plus I just like living in a world where you can find Nora Roberts sitting on the shelves a few notches up from Philip Roth.
But, I'm wacky like that.
Well, during a spat of remodeling, my library chucked all the spinner racks save one, and interfiled most of the romance paperbacks in general stacks. So now the collection was split up in two different areas of the library. You have some mass market paperbacks in with the hard covers and trade paperbacks, save for a small portion that are still located on one lone spinner rack. I did not like this, but more importantly, the romance readers really didn't like it. Circulation numbers took a dump, so when I transferred in (read:
Wendy Is Romance Girl
) my boss suggested we go back to the spinner racks for the entire mass market romance collection. As much as I hate spinners, I agreed. We picked up one unit from a near-by branch that was doing a bit of spring cleaning and then we ordered a shiny new, 5-sided unit. At the end of April, the collection was moved. All of our romance paperbacks are now in
one
area, all by themselves - with hard covers and trade paperbacks still interfiled with the rest of the fiction.
It's now June, so we've got a full month under our belts. It also means I could finally look at the physical numbers. Anecdotally, I felt for sure that this move was a good one. The spinner racks were
full
after I moved the collection, and it didn't take long for them to look picked over, and for me to find actual empty spaces. But anecdotal is not hard numbers, which I now have.
In April we checked out
321
romance paperbacks. In May we checked out
615
. Almost double. An increase of
294
to be exact.
I was....ecstatic I think is the word. Until I realized that we might just have robbed Peter to pay Paul. Librarians know that when you move a collection in this manner, you very likely change your "location" status in the catalog. It's that bit of information on the catalog record that tells the user where they can find the book in the library. When I moved the romances out of "general stacks," I changed that location status to "romance." So did my romance numbers
really
double? For that, I would need to look at the stats for my general stacks.
In April, we circulated
5023
items that were classified as "general stacks." In May, that number was
5014
. That is a decrease of
9
. Which means....

My romance paperback stats flippin' doubled in a month!!!!
Go Wendy, go Wendy, it's your birthday, go Wendy.....
What does all this really mean? In the grand scheme of things - probably not much. But I do think it illustrates a very good point about libraries and communities, which is to say they're all different. Sometimes you try new things and they don't work. Sometimes you think something won't work and it does. What works in one community of readers may sink like a stone somewhere else. Basically it's about being flexible and finding out works best for
your
community. Also, as the librarian, it's about not letting your own opinions stand in the way of experimentation and trying new things (no, I don't mean it like
that
.....).
As much as I
loathe
having my mass market paperback romances sitting in
Romance Spinner Rack Ghetto,
numbers don't lie. Which means Wendy will learn to live with it. Also, at this point, I'm just happy to see more fiction leaving the building, as I strongly feel those numbers could be better overhaul at my current work home. But then, I'm the fiction buyer so of course I think everybody should be reading, and lovin', fiction. But before I mull over tackling that tall order, I think I'm just going to bask in the glow, a wee bit longer, of this small victory.