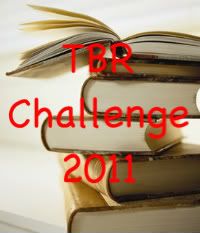 Hello 2012, goodbye
thank you sweet baby Jesus
2011! Which means it must be time,
once again
, for the bonanza that is my
Year In Reading Review
posts here at the Bat Cave. I like to drag these reflections out over the course of several blog posts, mostly because it flips some secret librarian switch I have in my brain, and also because I like looking back. My wee lil' geeky heart likes looking at numbers, and I also like thinking back to all the great books I read over the last 12 months. The not-so-great ones? Yeah, let's let sleeping dogs lie.
I thought a good way to kick off my recaps would be to start with what I read for the
2011 TBR Challenge
. I was able to complete the challenge every month, which means a total of 12 books read and reviewed out of my ginormous
TBR Mountain Range
. Here's how the numbers break down:
Grades:
A = 0
B = 4
C = 5
D = 3
Blah
. I had the impression that my reading this year for the challenge was pretty sucky, and these numbers kinda back me up. Hey, 4 B reads are
great
, but C books always leave me feeling uninspired and....3 D reads?!
Ugh.
Genres Read:
Category Romance = 3
Romantic Suspense = 1
Historical Romance = 5
Mystery/Suspense = 2
Young Adult = 1
I'm pretty happy with the variety I read, and even more pleased with the mix of publication dates!
Publication Dates:
1993
1995
1997
2003
2004 (2)
2005
2007 (2)
2008
2009 (2)
So what were all those books I read for the challenge? Here they are, a trip down memory lane (
title links will take you to full reviews
).
The B Reads:
The C Reads:
The D Reads:
2011 TBR Challenge
. My "goal" for the
2012 TBR Challenge
? Well, I'm hoping I find myself
at least
one yummy
A
read buried somewhere in the depths of my
hording
collection (come out, come out where ever you are!).
Speaking of the
2012 TBR Challenge
? Maybe it's time for you to sign-up! It really is a lot of fun, and a great way to make progress on your own
hording
collection.
Check out the information page for all the details.