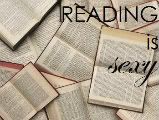 Of all my annual
Year In Review
posts, this one is likely to bore the majority of Bat Cave followers. But, what can I say? I like looking at the numbers. I like seeing how many books I read, what the grades were, and the various "labels" I slapped on them. I use a pretty stripped down spreadsheet in Google Docs to keep track of my reading. It's simple, it's easy, and it works for me. I'm a
if it ain't broke don't fix it
kind of gal - and as tempting as GoodReads is at times, I just can't pull the trigger (I have my reasons). Anyway, here's how 2011 stacked up for me:
My goal for 2011 was to crack 100 books read, and
I fell short at 95
. I'm a little disappointed in myself, but considering I read
94 in 2010
and
95 in 2009
, it's hard to berate myself over....
consistency
.
My
grades
this year were also fairly consistent when compared to 2010.
A =
2
(4 in 2010)
B =
54
(59 in 2010)
C =
23
(24 in 2010)
D =
11
(4 in 2010)
DNF =
5
(5 in 2010)
My reputation for being stingy with
A
grades holds. The defining element for me has always been do I want to drop my entire life and immediately reread the book. People, my TBR is so legendary, and the guilt that comes with such hording, that rereading is a rarity for me. So if the story passes the
Must Reread Someday
test, it's an
A
.
A word about
DNF
grades - I pretty much stopped giving
F
grades when I left
TRR
. My personal policy is life is too short to keep reading a book I absolutely
loathe
, and
TGTBTU
has the same policy. So yeah, Wendy no longer gives
F
grades. It's probably not fair to count books I didn't finish in my final numbers (OK, it isn't), but I tend to only count books that I invested a significant amount of time in. And since we're talking genre fiction, the bulk of which is somewhere around 300-400 pages? I'm looking at 50+ pages, with a decent chunk of skimming ahead.
I did pretty good with my
variety of publishers
this year, even considering I only review category romance for TGTBTU. Instead of giving you the numbers, let's just go with a list:
Aphrodisia, Avon, Ballantine, Brava, Carina, Cleis, Crown, Ecco, Forge, Hard Case Crime, Harpercollins, Harlequin Historical, Harlequin Historical Undone, Harlequin Blaze, Spice Briefs, Love Inspired Historical, Mira, Kimani, Harlequin Desire, Harlequin Intrigue, Harlequin Presents, Harlequin Romance, Harlequin Special Edition, Harlequin Superromance, Hyperion, Kensington, Samhain, Little Brown, St. Martin's, LooseID, Warner, Minotaur, Zebra, Pocket, Signet.
Publication dates
were a lovely mix this year, even if my reviewing means that the 2011 are significantly higher.
1993, 1995, 1996, 1997, 2001 (2), 2003 (2), 2004 (3), 2005 (2), 2007 (2), 2008, 2009 (2), 2010 (9), 2011 (68)
Now that's all interesting (OK, maybe just to me),
but what exactly did I read this year
? Well, let's take a look at my tagging. Now these won't add up to 95 because I tend to slap
multiple tags
on the books I read. For example, a Harlequin Romance is going to be tagged C, S for "Contemporary" and "Series."
Anthology = 4
Contemporary = 31
Inspirational = 2
Romantic/Suspense = 8
Women's Fiction = 4
Series = 26
Erotic Romance = 6
Short Stories = 17
Erotica = 7
Historical = 33
England = 2
Medieval = 4
Regency = 12
Victorian = 2
Western = 7
Historical Fiction (not romance) = 2
Mystery/Suspense = 9
Non-Fiction = 1
Paranormal = 1
Science Fiction Romance = 1
Young Adult = 2
Every year I tell myself I'm going to get more consistent with my tagging, and every year I can't seem to get it together. So I'm not sure how helpful these numbers are, but they are interesting, if for no other reason than to see the variety (or lack thereof) that I read.
One other thing I found interesting is that of the 95 books I read this year?
Yeah, I reviewed all of them (either on this blog or TGTBTU) except for 6.
Of those 6 I didn't do full-fledged reviews for? 3 were C reads, 3 were DNFs, and all 6 were books I didn't "promise" anyone I'd write a review for.
Discipline, I haz it.
Just goes to show that one reason I started blogging (to talk about the books I was reading) still holds true today as it did back in the stone ages of 2003.