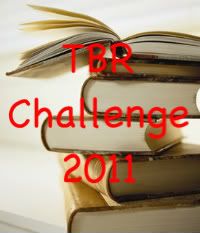 For those of you participating in the 2011 TBR Challenge, a reminder that your commentary is "due" on
Wednesday, December 21
.
This month's theme is
Holidays.
Christmas, Thanksgiving, Valentine's Day - any ol' holiday will fit the bill.
Anywho
....remember, the themes are completely and totally optional
. The themes aren't as important as digging something (anything!) out of your TBR Pile.
This also marks the end
(::sob::)
of the 2011 TBR Challenge. I had a great time hosting, and I hope you all had a great time participating and/or following along. But never fear! I'm hosting again in 2012!
If you are interested in joining the 2012 TBR Challenge, please check out the information page.