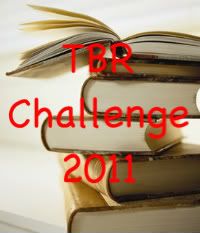 For those of you participating in the 2011 TBR Challenge, a reminder that your commentary is "due" on
Wednesday, November 16
.
This month's theme is
Other Genre Besides Romance.
Or as I like to call it,
Because Wendy Has Plenty Of Mystery/Suspense In Her Giant TBR Mountain Range That Can Be Seen From Space
.
Anywho
....remember, the themes are completely and totally optional
. If the idea of not reading romance fills your heart with dread, never fear! The themes aren't as important as digging something (anything!) out of your TBR Pile.
It's also never too early to think about joining the TBR Challenge in 2012! More information will be coming in December. In the meantime, if you're new to the challenge and curious on how it works,
please see the 2011 information page
.