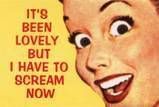 On a certain level, I totally get why publishers and authors push connected books. It allows the author to tinker around, create an entire world, revisit themes and characters. There's also the added bonus that if a series "hits" with the reading public that it's a bit like picking the right numbers on a lottery ticket. If you can suck readers in with a series, a good many of us will ride with you until the wheels fall off. A lot of us try to deny it, but really - a lot of us are creatures of habit.
However, I think I may have hit a wall when it comes to romance series. At least a temporary one.
Now, it's entirely possible that my mind isn't "right" at the moment (no comment from the peanut gallery).
Real Life
has been....uh colorful of late. I've been whining. I've been depressed. I've been bothered by the fact that I was put in a situation where I didn't know what was going on or how it would directly effect me. I knew it would effect me - but how? Yeah, Wendy doesn't do well with "not knowing." I don't like it. Again, I'm a major creature of habit - so when you disrupt my rut, and then don't give me new marching orders in a timely fashion?
Wendy meet wall. Wall meet Wendy.
Even though I try to not let things like this effect my reading, it inevitably does. Now the good news is that I generally know when I'm being irrational. In other words - I know it's "me" and not "you." I still have the ability to register when a theme/concept is done "not so good" in one book by one author, and "wow, that was kinda fun!" in another book by another author.
Which is where I'm coming in with connected series books (you just have to give me enough time, I got back to it!). One problem that series have in the
Romance World
is that the required "happy ending" limits you to a
certain
extent. Readers like the couple to ride off into the sunset together. Now intellectually readers know that no relationship is perfect. Couples can be madly in love with each other
and
fight. They can have arguments about money, the kids, the fact that the hero leaves his dirty socks on the floor. Here's the thing though:
Most of us don't want to read about it.
So authors let their characters ride off into the sunset, and with following books they pair up new couples in the same world. However, readers and authors cannot seem to help themselves. They need to bring back those past couples in future books. Typically, some readers like seeing them again.
Me? Yeah, not so much.
Here's the thing, I've moved on. Dear
Hero A
and
Heroine B
, you have had your moment in the sun. You have had your time in the spotlight. Now go away. Sincerely, Wendy.
Now it used to be that I didn't mind past couples showing up, especially if them being "on page" was somehow important to the new story at hand. They had to play an important role to the new romance. Then it was OK. If they just showed up on page to pose, posture, and act sickeningly sweet lovey-dovey - yeah, get the heck off the page. You're wasting my time and giving me a toothache. And don't get me started on characters who show up just to sequel-bait. Hi, I'm
Sexy Interchangeable Navy SEAL #49
. I'm going to get my own book in December 2029. You shall read me. You shall love me. Here, look at my massive, manly pecs.
Blah.
The reason I suspect I may have hit a wall with romance series is that even now past couples who are playing an important roll in the story at hand are starting to crawl under my skin a little bit. I haven't hit the loathing their existence point yet, but they're starting to irritate. Sort of like a mosquito bite that you just can't leave alone. You. Must. Scratch. It.
But the good news is that I suspect I'm being unreasonable. And I'm a big enough person to admit that. I think
Real Life
has bled into my reading too much. So yeah, it's me - not you. The good news is that Wendy got those new marching orders recently, so I can start digging the beginnings of a new rut.
What about you? Have you hit a wall on connected books?