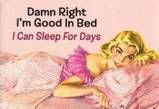 Yes, I'm back. Not that I ever really left - but I'm back to my own reality at any rate. My Man is still very happy to have me home (always nice to be missed) and I'm getting caught up around the office. I also have a small pile of books waiting for me to read
In The Immediate Future
, so I'm hoping to get some reviews going soon. I've already delivered two of them to
Sybil
, which might help her overlook the fact that I've been a major slacker of late.
Before I really, truly get back into a regular routine around the Bat Cave though, a couple of general housekeeping things that cropped up while I was off at RWA having Librarian Of The Year fun.
First, as you might have heard, California wants Amazon to pay sales tax. Amazon, not wanting to do this, has taken it's toys and gone home - which means cutting off their affiliate members. Uh, of which I'm one. To that end, I've updated the disclaimer page here at the blog. The short version? When you buy something that I link to on this blog (or at my Upcoming Historicals wiki), I'm no longer earning any pennies from that sale. I'm still debating what I'm going to do. Probably nothing. It's not like I was making hordes of cash off the blog. It was never the point, more like a wee added bonus (and I'm talking very wee).
I've decided to clean up my side bar. I believe less is more. So I've started a new page on the blog, and you'll notice a new graphic on the side bar for Super Librarian Recommended Reads. These are books I've reviewed (and really enjoyed) either on this blog, or over at Sybil's place. The plan is to keep this page fairly fluid, so expect titles to come and go off this page. You can always follow the "grade" tags at the bottom of review posts to see more titles.
And that, as they say, is that. Now, back to our regularly scheduled programming. Just as soon as Wendy finds her sea legs again....