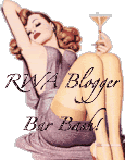 Where?
:
The Atrium Lounge
at the
New York Marriott Marquis
(the conference hotel)
When?
: It's so nice, we're doing it
twice
! For you early arrivals,
Monday June 27 @ 7PM
to uh, whenever. A repeat performance will happen
Tuesday June 28 after the Literacy Signing
to uh, whenever.
Who?
: The only reason I call this the Blogger Bar Bash is because I'm a sucker for alliteration.
Anyone is welcome to attend
. Readers, Bloggers, Published Authors, Not-Yet Published Authors, Editors, Agents, Fabio, Cowboys, Sheikhs, Virginal Secretaries, Navy SEALS, Werewolves, Vampires (but keep those fangs to yourselves!), Sailors on shore leave
etc. etc. etc.
If you're not registered for the conference and
only
attending the Literacy Signing? Hey, stop on by! No conference registration required for these wing-dings.
Why Then?
: If this is your first time attending
RWA
, you won't understand this yet - but the later in the week it gets, the more brain-dead you'll become. Trust me, it's just going to happen. We'll have two gatherings to snag as many people as possible. The Literacy Signing tends to "signal" the official start of the conference, and as the week wears on dance cards start filling up with other commitments.
Why A Bar?
: Because I'm a lush. There, I said it. Actually, the reason is that I'm a terrible planner and hostess. I like "low key." No need to plan, no snacks to buy, no booze to stock up on. Plus, a bar pretty much has everything. Munchies if you want them. Booze if you
need
want it. Non-alcoholic offerings if you're a teetotaler. There should be something for everyone.
Lastly
: This is a relaxed affair. If you can only stop by for a few minutes? That's fine! If you want to hang out for a couple of hours? That's fine too! I know how busy some folks are during this week, so feel free to come and go as you please, as other commitments/appointments/invitations come up. No pressure, only fun! A chance to connect some names with faces prior to all the hoopla getting underway. I hope to see a bunch of you there!
(Please feel free to tweet this, post it on your blog etc. Let's get the word out!)