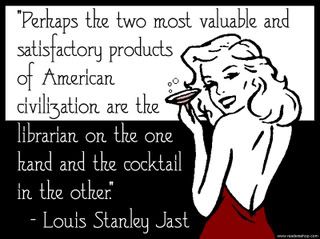 Romance Writers of America has posted the schedule for this year's Librarians Day at the annual conference in New York City. If you're a librarian, and will be in the area on Tuesday, June 28, I encourage you to sign-up. It's the insane bargain basement price of $25 for the day (and no, you don't have to be attending the whole conference - you can just do this one day!), they feed us lunch, and the separate Librarian Goodie Room is, traditionally, off-the-hook. Seriously. Off-the-hook. Plus, you're already on site for the ginormous Literacy For Life Autographing that's the very same day, from 5:30-7:30PM. Here's the tentative schedule with RWA Librarian Of The Year (modest, thy name is Wendy) commentary:
7:30 – 8:00 a.m.
Registration/ Badge Pick-Up
Plus a tote bag! With books in it! Squee!
8:00 – 9:00 a.m.
Focus on Communities in Romance Speakers: Lara Adrian, Robyn Carr, and Jayne Ann Krentz
Romance authors are experts at creating communities in their book series, whether these communities are geographic, familial, or even species based. Join three New York Times best-selling authors as they discuss the challenges and rewards of writing connected/community-based books, why readers love them, and how librarians can recommend them to their own romance reading communities.
Seriously, huge trend right now - and a great mix of authors. Adrian has been writing a paranormal series, Carr is taking over the world from Virgin River and Krentz is Queen Of Writing Series. This should be great.
9:00 – 10:00 a.m.
Harlequin 101 Speakers: Wendy Crutcher, Collection Materials Evaluator, Wendy's Employer
Did you know that Harlequin publishes nearly 110 new titles every month? Yet, somehow, category romance remains a misunderstood and often-dismissed member of the popular fiction family. Materials Evaluator Wendy Crutcher will help solve the mystery of category romance and provide insight into this juggernaut of the romance genre.
Oh look! It's me! Presenting by myself! Argh! Actually the event coordinator is trying to scrounge up a warm body from Harlequin to join me - but right now it's looking like I'm flying solo. ::gulp:: Now to find time to rework this particular presentation of mine (I've given similar talks twice now - to various colleagues here at work).
10:00 – 10:30 a.m.
Break sponsored by Brilliance Audio Stretch your legs and enjoy so
me refreshments, but don't wander too far! We'll be hosting a fun romance trivia during the break and handing out prizes to librarians who correctly answer questions about the genre.
Snacks! Coffee! Chit Chat! More free books!
10:30 – 11:30 a.m.
You've Got Romance in My Mystery! No, You've Got Mystery in My Romance! Speakers: John Charles, Leah Hultenschmidt, Judi McCoy, and Deanna Raybourn
For more than a decade, genre blurring has been one of the strongest trends in fiction and a powerful force affecting both collection development and readers' advisory service in libraries. A librarian, an editor, and two award-winning authors will talk about how library staff can use the power of genre blurring to successfully cross-market their romance collections to new readers.
Charles is a former Librarian Of The Year, and you know how I am with westerns and category romance? Yeah, he's big on genre blurring, readers' advisory, and luring non-romance readers over to The Dark Side. Hultenschmidt is now an editor with Sourcebooks (and awesome!), McCoy has romance roots and is currently writing cozy mysteries, and Raybourn writes historical mysteries for Harlequin (Mira, I believe?). Should be good stuff here.
11:30 a.m. – 12:30 p.m.
Publisher Preview Speakers: Lucia Macro, Executive Editor, Avon Books; Wend
y
McCurdy, Executive Editor, Berkley Books; and Shauna Summers, Executive Ed
itor, Ballantine Bantam Dell
What are the latest and upcoming trends in romance fiction? Which titles will have miles-long holds list this fall? Executive editors who publish some of the biggest names in romance fiction will tell you what's hot now and what is going to be the next big thing.
OMG - who doesn't love hearing about new stuff? Books, books, books - tell me all about the brand new and the shiny.
12:30 – 2:00 p.m.
Librarians Luncheon featuring New York Times best-selling author Julia Quinn
2:30 – 4:30 p.m.
Librarian/Bookseller Networking Event with Authors Come to this fun, informal meet-and-greet with your favorite romance authors, and leave with free goodies and more!
ZOMG - The Librarian Goodie Room. Free books! Free promo goodies! Chatting with authors! Passing out my business card! Woot!
It's also during this stretch where I hightail it up to my room, dump the insane amount of goodies I got out on the bed, and hightail it back downstairs for more mingling, and waiting for the Literacy Signing to start. Again, if you're a librarian, and are going to be in the area, I encourage you to check it out. It's always a fabu time. You get lunch, free books, and you get to hear people say really nice things about how awesome-sauce librarians are. You can't lose!