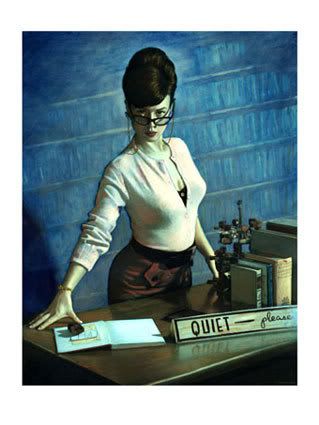 Last week I got an e-mail from Librarian Leesa, who had just discovered the bloggie goodness that is the Bat Cave. Mixed in with the general flattery, was this question:
I was wondering if you have any sort of listing of romance novels (series, historical or contemporary) that feature librarians? I am always looking for these, being one myself!!
Now Leesa isn't the first person to ask me this question, but it took her e-mail for me to have a
Light Bulb Moment
. So with the general help of all you helpful folks out there are the Interwebs, I want to compile a list of
Librarians In Romance Novels
. I'm still kicking around how I will "house" this list (probably here on the blog), but in the meantime, I need help gathering titles. Here are the list of "requirements":
Titles must be a romance novels. That means the romance has to be

the central focus

of the story, and there

must be a happily-ever-after

(dead librarians give us all a sad).

In print, out of print - it's all good.

Any and all sub genres welcome (contemporary, historical, inspirational, paranormal etc.)
Until I get a handle on this "project" - titles should be limited to traditional print publishers (large

and

small presses)

and

digital releases from reputable e-presses. I may loosen the "requirements" down the line, but for now - let's just stick with these.

Whether you thought the book was "good" or "bad" -

I don't care

. One thing I've learned in 10+ years of being a librarian? Crap is in the eye of the beholder. This list is merely that -

a list

. A jumping off point, if you will.

You can send me titles two ways: 1) Leave a comment on this post or 2) E-mail me.
To get this party started, here are some titles I immediately thought of:
Historical
Breathless by Laura Lee Guhrke
Contemporary
Perfect Partners by Jayne Ann Krentz
Romantic Suspense
Open Season by Linda Howard
Running Hot by Jayne Ann Krentz
Erotic Romance
In Too Deep by Portia Da Costa
The Tutor by Portia Da Costa (erotica)
Paranormal
The Demon's Librarian by Lilith Saintcrow
Category/Series
Three Little Words by Carrie Alexander (HSR #1186)
What The Librarian Did by Karina Bliss (HSR #1622)
Lightning that Lingers by Laura London (Loveswept #25)
The Librarian's Secret Scandal by Jennifer Morey (SRS #1624)
Amber By Night by Sharon Sala (SD #1495)
The Driven Snowe by Cathy Yardley (HB #14)
OK folks - and away we go!
It's list-making time!