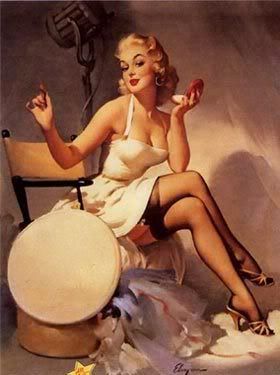 Today is my last day at home, and my last day of any sort of normalcy, before RWA 2010 in Orlando.
Rosie
and I are flying out early tomorrow morning, and we'll (hopefully!) be arriving at the Swan And Dolphin Hotel in time to contemplate dinner with the lovely, sparkling
KristieJ
. So what have I been doing to get ready for RWA? Besides slowly losing my grip on my sanity? Well, let me tell you....
Shopping. I lack the "girly" gene that instills a love of shopping, so I'm one of those people who will only shop when I absolutely

have

to. RWA is usually what forces my hand. That, and the fact that I wear clothes until they fall apart. This year I needed just about all the essentials. You know what I learned ladies? It's time to buy new bras when you try one on at Department Store X and your first thought is "Wow, so

this

is support?" This coming from a girl who has never been accused of being uh....well endowed. Which is probably how I went so long without buying new bras. Heh.

Hair cut. My hair is all one length (I had layers for a short while, but got bored with them) and I tend to put hair cuts off until the last minute. I finally got in to see my stylist on Friday, and told her to lop off two inches. I think she took off more like 2.5 because dang my hair seems short! But I think it's more likely that I just haven't had a hair cut in so dang long that it was a bit of a shock to my system. (I

do

like it though).

Laundry, laundry, laundry.

Figure out exactly what Tessa Dare and I are going to say during our presentation at the Librarians Day event on Wednesday. I had this written in my head for about three months, and finally wrote it all down about....

oh

a month ago. Tessa added some things. I added some more things. My boss looked at it and declared it "good." Hopefully I won't suck (please, like I'm worried about Tessa? I

know

she'll be awesome). In the meantime I'm trying to convince myself it's "fine" and "stop tinkering already Wendy."
Print more "Official Wendy @ The Library" business cards. I don't keep a huge stock on hand, and really only burn through a handful every year (uh, usually at RWA). This year I'm guessing I'll go through more than usual (see above bullet point).

Figure out a plan of attack for Literacy Signing, which I haven't done. I'll probably do what I've done the last several years. Start at one end and work my way down the line. Also, I need to remember to buy a book from and author who 1) doesn't have a line of people waiting for her and 2) I've never read before. It's my one act of good karma every year.

Pack. And try to remember important stuff that I bring every year - like motion sickness medicine and packaging tape (gotta ship those books home!). Note to self: Remember to pack extra tote bag this year. Last year's RWA tote bag was large enough to stuff a dead body in but some years they are teeny-tiny. Prepare for teeny-tiny. Oh, and Wendy? Remember your dang sunscreen this year. You're not just pale, you're see-through. You've been this shade of death for 35 years, and yet last year in D.C.? You forgot your sunscreen. D'oh!

Make sure digital camera battery is charged and remember to take a few pictures. Otherwise Nath will be unhappy, and I like it when Nathie is happy.

Figure out what I'm going to attend. Honestly, no clue. Will look at schedule when I register. I'm thinking it will be very few workshops, and mostly Publisher Spotlights (usually good info for job and personal reading) and Signings. The rest of time I'll probably be crying over my cosmopolitan in the bar about how broke my library is right now.

Track down the one author who never e-mailed me back (I'm going with evil spam filter theory) about doing my library's literary event in 2011. I've got two romance authors confirmed, I need one more.

The next time I blog, I'll be in Orlando! This year, for a change of pace, I'm hoping I won't be posting updates at 2AM - which is what I seem to do
every blessed year
::sigh::
We shall see though. Honestly, blogging at a reasonable time of day is probably too much to hope for. As for Twitter? Yeah, probably a dead zone where I am concerned, but there are bound to be loads of others filling the void, so it's not like I'll be missed much.
See y'all when it hit the east coast!