I hardly ever do contests around here, and I had two going last week! It's time to announce the winner of
the copy of Heart Of Stone by Jill Marie Landis
. Thanks to
Random.org
, the lucky winner is:
Keira
!
(of
Love Romance Passion
fame)
Woot!
Keira, please drop me an e-mail (you can find
my address here
) and I will pass it on. A publicist will be sending out your prize.
+++++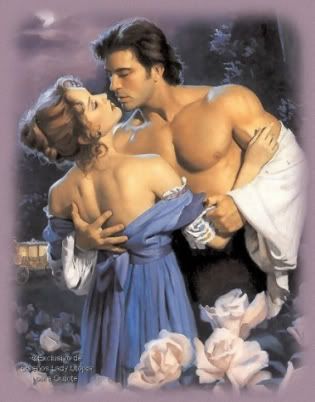 As I'm sure is no surprised to anyone who has read this blog for half a minute, I love books. I love new books and I love old books. I'm a total sucker for cover art and back cover blurbs. I love the smell of new books and I love that slightly musty smell you encounter in used bookstores.
Seriously, I'm hopeless.
Which might be how this idea popped into my head. By far and away my favorite thing about Romance Bloglandia is reading about books. Yeah, yeah, the opinion stuff is great - but I'm in it to get my book fix. I also am
pretty sure
I'm not the only one. So starting
this
Sunday I'm going to begin a feature I'll be calling:
Basically I'll post some random book cover and back cover blurb for some random romance novel every Sunday until I get bored with the idea. I'll do my best to mix it up. Old School, New School, over-the-top sounding historicals, Harlequins from the
WayBack Machine
, paranormals from back in the day when paranormals weren't "cool," well you get the idea. Also, if I find any reviews, I'll post links to those as well.
I firmly believe you can't appreciate where you are, if you don't know where you've been. Plus, the idea just plain tickles me. Hopefully it will tickle some of you too.
+++++
Today is the
40th wedding anniversary
for Ma and Pa Super Librarian. My folks have been married for
40
years. If you were ask them, I'm sure they'd tell you that they're not sure where the time has gone. Heck, I know I don't know where the time has gone.
My parents are the bee's knees. Truly. It's safe to say I didn't appreciate them when I was a wee lil' Super Librarian (what kid truly appreciates their parents at that age?), but as I got older, I discovered how truly remarkable they are, and how frackin' lucky me and my two sisters are. I don't know much, but I have never doubted, a single day in my life, that my parents love each other. Even as their children were trying their patience. Even as they were killing themselves getting through college, working full time and raising a family. Even when Ma went on strike at work, or Pa got laid off. I just
knew
. It's safe to say I probably took their relationship for granted. My parents always seemed (and still do) so solid to me.
And obviously they are - because holy cow! 40 years!
I was a terrible daughter and only sent them a card. Honestly, I could not think of what to get them. They've been married for 40 years. I mean, they've got everything they could possibly want or need. So instead I think it will be dinner out (my treat) when they hit the west coast for a visit in late April. This is, of course, assuming I can pry them away from their new baby granddaughter.
Lil' Sis' due date is April 9
.
Love you Mom and Dad.