Once again, trolling databases looking for upcoming historical romance releases for
my wiki
has netted me more Harlequin librarian goodness.
It
all started with
What The Librarian Did
by
Karina Bliss
. A Harlequin SuperRomance featuring an academic librarian heroine who falls in love with a rock star with a badass dragon tattoo. Seriously, I should be
so
lucky. Here in
Public Library Land
we're lucky most days to see guys with all their teeth, who bathe on a semi-regular basis.
Well yesterday's trolling had me finding this wee lil' gem:
The Librarian's Secret Scandal
by
Jennifer Morey
,
Silhouette Romance Suspense
, ISBN 9780373276943, $4.99,
September 2010
.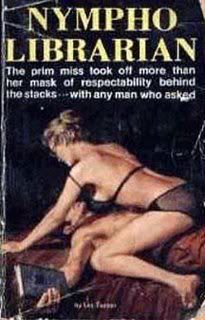 Since this release is six months out still, naturally I have
no
clue what it's about. But that won't keep me from wild speculation! Hey, this is a romantic suspense. Whatever could the secret scandal be? Maybe the librarian has people who cross out "bad words" in library books chained up in the boiler room? Maybe she throws rocks at people who talk on their cell phones in libraries? Maybe she breaks out the mad kung fu moves on creepy old guys who look at nubile young thangs on online dating sites using library computers?
Heh
- or maybe the scandal involves her buying steamy erotic romances for the library collection?
Of course, now that I think on it - all of those options sound more like public services as opposed to "secret scandals." Ha!
Seriously, how much do I love Harlequin? Let me count the ways! And are librarian heroines
the new black
?
Side note
:
Dear Author
is giving away print
and
digital copies of
What The Librarian Did
. If you haven't read it yet (and want to),
why not head on over and try your luck
?