Like a lot of Americans, I'd classify myself as a bit of a mutt - and I say this with much affection. One of the things I truly love about my country is the sheer amount of diversity among the people who live here. My blood line is pretty much a mess, although if you boiled me down to my essence, you'd largely be left with English and German. Most days, I honestly think the English is winning out. Besides the very dusty B.A. in British History currently in the Bat Cave office closet, there's my long-standing tea addiction and my love of
Cadbury
chocolate. A lot of Americans will say Cadbury is
"too sweet"
to which I say,
"Oh goodie - more for me! Gimme, gimme, gimme!"
Many moons ago I ran across a Cadbury chocolate bar that is not sold retail in the U.S. I devoured it, I loved it, I wanted more of it, and then promptly forgot what the hell it was called. Looking back I should have done a blog post asking for help, but I honestly didn't think of that. All I could remember was that it was a
Dairy Milk
bar with white chocolate sitting on top of the milk chocolate - and for some inexplicable reason
"milky mounds"
was lodged in my brain. Which (
naturally
) My Man found
uproariously
funny.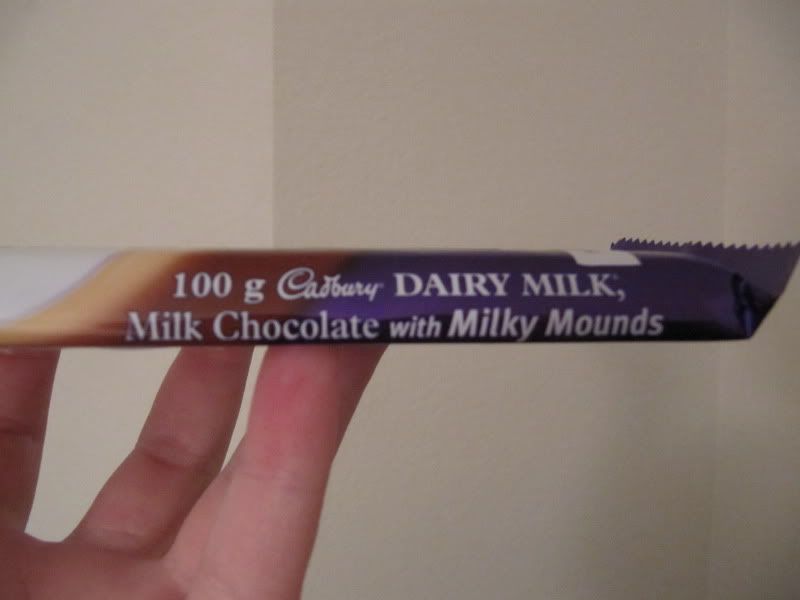 Well today's shopping excursion to
World Market
(I needed tea) netted me the Holy Grail. Behold,
Top Deck
! And I wasn't making up that
"milky mounds"
bit either.
Tee Hee
. If my Internet searching is to be believed, this particular candy bar is no longer sold in the UK, but is still widely available in Australia. Any of my overseas readers - please feel free to correct me. But
wahoooey
!
Milky Mounds Of Deliciousness
! Now I just have to hope that World Market keeps carrying them. I held myself back and only bought two.
In other news, as
others
have
already
blogged
about, the So. Cal. Bloggers added to our masses and met last weekend in honor of
Lisabea
's triumphant return to our sunny shores. Drinking, eating and merriment ensued, along with a trip to a fabulous used (and new) bookstore in our area that is essentially floor to ceiling romance novels. Old Skool, New Skool, and just about every Skool in between. Between Lisa,
Nikki
and that bookstore, I walked away with lots o' goodies.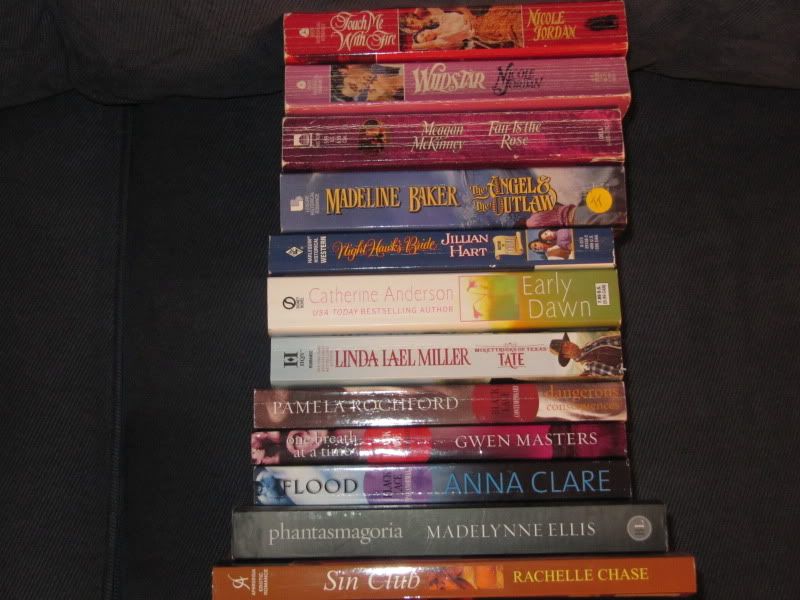 A couple of books of note:
Lisabea decided to clean house and gifted me with her beloved (and well-loved) copy of
Fair Is The Rose
by Meagan McKinney which is (in her words)
"my favorite western of all time."
And she gave it to me! How sweet is that girl? Sweeter than
Milky Mounds Of Cadbury Deliciousness
, says I.
I'm also pretty sure I now owe Nikki a vital organ because she gave me her copy of
Wildstar
by
Nicole Jordan
. For those of you who don't know - a long, long time ago and in a galaxy far, far away, Nicole Jordan wrote westerns. This is one of them and it's damn hard to find. So hard to find that I've been looking for it for
several
years (I refuse to pay outrageous sums online for hard to find mass market paperbacks - won't do it). Nikki was cleaning house - and voila! 'Tis now mine! And after talking with her, I really need to pull that equally hard to find copy of
The Savage
(also by Ms. Jordan) out of my TBR.
Oh, and these photos will blow up to a larger size if you click on them. You know, in case you want to see all the books I scored or if you simply want to bask in the glow of milky mound goodness. Heck, I know I do.