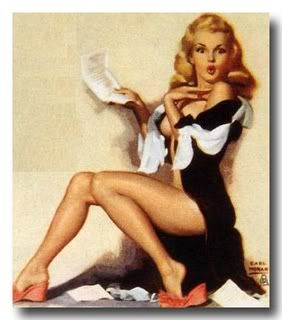 And you all thought today was just like any other Sunday.
Today marks the
7th anniversary
of
The Misadventures Of Super Librarian
. Yes, I have been blogging for
seven
years. Some of you might be wondering what it takes to blog for seven straight years, with no major interruptions (I don't blog every day, but I've also never taken an extended leave of absence). Well, I'm here to let you in on the secret.
It helps to have an inflated sense of self-importance.
Tee Hee.
Over the years my blog has most certainly been a work in progress. I've never had a clear plan. I've never been the best at self-promotion. No, really. I haven't. I tend to keep myself holed up behind the computer screen and...
well
...just blog.
Certainly over the years this blog has allowed me to do some pretty awesome stuff. I've met wonderful, fantastic people (online and in real life - you know who you are). I've gotten to work,
however marginally
,
with one of the largest publishers in the world
. I've given presentations. I've answered e-mails. I've read a lot of really great books.
I'm not sure what the secret to me doing all this great stuff as been - but I'd hazard a guess that it's just the sheer steadiness and longevity of the blog. Also, voice. I cannot stress enough how important "voice" is. I know other bloggers wrestle with this idea, and the only advice I have to offer is be yourself.
Don't hide behind the idea of what you think you

should

be
. Be who you are. Some readers will love you for it. Others won't. And that's OK. Not everybody likes me, so they don't visit the Bat Cave. That's fine. There are blogs out there that I'm not wild about - so I don't visit them. Not everybody can be a rock star, and
frankly I'm not convinced anyone truly is
. Like books, no blogger is universally loved.
Well, maybe
KristieJ
. She's the closest we got at any rate.
All you can do is keep on keepin' on. Put one foot in one of the other. Find your rhythm. Find what works for you. And be yourself. Don't fake it in the vain hope you're going to "make it." Because genuine is a lot more interesting to read than phony.
I've had to remind myself of this recently because after seven years of blogging, and ten plus years hanging around the online romance community (yes, I know I have no life - thanks for asking though), I had been getting more than a little fed up lately. Tired, if you will. But I did what I always do. I chalked it up to a raging case of PMS, not enough chocolate, too little caffeine and I kept on keepin' on.
There is no supah-secret handshake to blogging other than consistency.
Keep on keepin' on
. The community is certainly a big and interesting enough place for all sorts of readers and writers. And the more of us their are, the more interesting as a whole we are. Even those personalities that can get on my last good nerve (here Wendy, have some more chocolate!). Because that's what makes us interesting. That's life. Nobody is going to love everybody. Not everybody is going to love what you do. Not everybody loves what I do. And it's OK. Trust me. I've got seven years in to prove it.