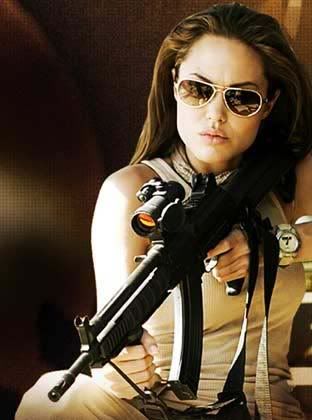 I had yesterday off work, and since My Man's car was in the shop, he borrowed the Batmobile to get to work. Which left me home alone, with no transportation all day. Normally an excellent time to scour the Bat Cave, do some laundry and watch Law & Order reruns. Except other than doing some cleaning, that's not what I did at all.
No I spent,
literally
, all day wrestling with our desktop computer and pulled off 2 Trojan horses and about 8 viruses. And the damn thing still isn't working correctly. Sigh. So it's looking like I have more wrestling ahead of me today. Crap.
So
annoying. I'm about ready to chuck the damn thing about the window.
If you're an pimply asshole who lives in your Mom's basement, eats your weight in microwave burritos and cooks up new computer viruses because you can't get laid? Yeah, I hope they shrivel up and fall off.
And yes. I mean that.
Of course all the wrestling with the computer did afford me the opportunity to finish up
U Is For Undertow
by
Sue Grafton
on audio book. I actually haven't "read" Grafton since high school, and she's one of those authors (like Janet Evanovich) that I pretty much listen to on audio exclusively these days. I really liked this one, a lot. There were moments in the story where I felt the author went off the beaten path, that probably would have annoyed me had I been reading (
"Yeah, yeah - it's all a rich tableau. Get on with it!"
) but it worked for me on audio - and once again Grafton shifts points of view in this book between Kinsey and the various players that are tied in to the mystery (a 20+ year old cold case involving a kidnapping of a little girl, who was never found). A solid
B+
.
And now, back to wrestling with this damn computer. Oh well, at least I'm not totally screwed. We still have the Bat Cave laptop that's operational. Sigh.