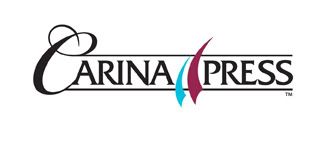 Monday mornings can sometimes bring really interesting e-mails to the Bat Cave in-box. Today it was an e-mail from
Malle Vallik
(one of the awesome folks over at Harlequin) announcing the arrival of Carina Press.
Carina Press
is a brand spankin' new digital-only press under the
Harlequin
umbrella. The plan for the official launch is set for sometime Spring/Summer 2010.
Angela James
has been hired as Executive Editor (welcome back to the
Land Of The Gainfully Employed
Ange!), and they're already accepting submissions.
So what does this all mean? Well, first off I'm going to direct you to Jane's post over at
Dear Author
(which includes a guest post from Angie) and Sarah's post over at
Smart Bitches
for some of the more "technical" talk like no DRM, submission guidelines, business model etc. I'm not an author, nor an aspiring one, so a lot of this stuff goes right on over my head. I'd also encourage you to check out
Carina Press's web site
, which has even more information (including
a blog
!).
But since you are all here visiting the Bat Cave, I'm going to give you my spin on this.
It's huge.
Big, huge colossal news
. If only for the fact that Carina Press is under the Harlequin Enterprises umbrella. Certainly Harlequin has already readily embraced digital, but with the formation of this new press, they've effectively kicked open the door.
It's huge
.
It's unprecedented
. And it puts every other "major" traditional print publisher on notice.
All this being said, I have never been the reader (or librarian) who is a zealot for e-publishing. I don't think Dead Tree books are going anywhere in my lifetime (sorry, just don't), and until the electronic format is more affordable, easy to understand, stream-lined, and idiot-proof, I just don't see the world takeover that so many others are predicting.
However, I think I speak for all librarians everywhere (well, at least the awesome ones) when I say we're all a big ol' bunch of
Format Hos
. While it's highly unlikely I'll ever give up Dead Tree books 100%, I love the ability to be entertained in a variety of formats. I love my Dead Tree books. I love audio books on CD. I love downloadable audio books (
OMG! Heaven!
). And I love ebooks. I love them all.
I love having

options
. Gimme, gimme, gimme lots of options and I'm a happy, happy girl.
Ultimately what the formation of Carina Press does do is put the naysayers on notice. While I certainly don't feel that digital publishing is going take over the world, I do think it's short-sighted of traditional print publishers to ignore it. Now we have a major player in the publishing industry (Harlequin) further embracing the digital model and medium. It's huge (have I said that already?), and I'm fully expecting I'll be bombarded by news, editorials etc. in all the
Industry-Type Stuff
I read for my job. It's certainly intriguing, and I for one am very curious to see what's going to be offered up in the way of their launch titles.