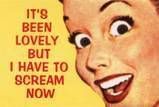 It's days like this that I wish I married a geek.
After much wailing and gnashing of teeth, it has come to my attention that
Hughesnet
hates librarians. Well, that's not fair.
They just hate me
. Turns out some of you using Hughesnet for an ISP cannot "see" the Bat Cave. You can "see" me using your Google Reader. You can "see" me when you pull up a cached page of my blog. What you apparently cannot do is come directly to my site, read all the scintillating ramblings and leave comments.
You get a 505 DNS error, or some variation of that.
To add to the frustration? One Hughesnet user has reported to me that they can see other blogs hosted by Blogger/Blogspot.
They just can't "see" me
.
It's very frustrating. And like all free services, I'd have better luck finding the Holy Grail than uncovering an e-mail or phone contact for Google/Blogger.
Bugger.
But I'm working on it. And also throwing myself on the mercy of the Blogosphere. Any bright ideas? Hughesnet has been contacted and they say they're communicating with Blogger just dandy. Plus, these people can "see" other Blogger blogs....
just not me
.
I can't decide if this gives me a sad, or makes me
Hulk
-like angry. Probably a little bit of both. Wendy mad! Wendy smash!