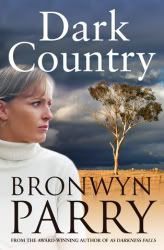 As some of you may recall,
last year I reviewed
Bronwyn Parry
's debut romantic suspense novel,
As Darkness Falls
. The catch being that it was published in Australia and wasn't available in the States at the time. Naturally, since I enjoyed that first book quite a bit, the publisher was keen to send me the second book in the series,
Dark Country
. Again,
only
available in Australia. But take heart curious readers! Read my review, and then see the end of this post.
Morgan "Gil" Gillespie left the bush town of Dungirri with no intention of ever returning. Half the town thinks he's trash. The other half thinks he's a murderer. But after selling his successful pub in Sydney, he comes home to see local cafe owner, Jeanie Menotti, about some unfinished business. Instead he's confronted by townspeople who aren't happy to see him, his life in Sydney following him out to the middle of nowhere, and the body of a dead prostitute stuffed in the trunk of his car.
Kris Matthews is the local police sergeant in Dungirri. The town has seen it's fair share of troubles, ranging from drought, to unemployment, to the hunt for a child killer (see
As Darkness Falls
). When Gil rolls into town, bringing a whole host of trouble with him, she goes with her gut. And her gut tells her that while some people in town think he's bad news, she knows that he's not guilty of anything they've accused him of. Even with a dead body found in the trunk of his car, there isn't much evidence to speak of. So she doesn't lock him up, instead getting him to talk. That's when she knows that real trouble has once again landed in Dungirri. Because the child killer may be gone, but now organized crime has rolled into town.
One of the things I really loved about
As Darkness Falls
was how "dark" the story was. That tends to be a common complaint I have against some romantic suspense fare. The author pussy-foots around the suspense, and doesn't explore the scary corners. Parry doesn't shy away from tough subjects, although the "dark" isn't nearly as pervasive and oppressive in
Dark Country
. On that score, I suspect it will work better for those romance readers who shy away from heavier reads.
That said, on the flip side of that coin we have Gil. There is definitely a segment of the romance reading population who want their heroes to be above reproach. I wouldn't call Gil an "anti-hero," but he is guilty of getting in bed with the wrong people. Because of his connections, good, innocent people do get hurt over the course of the story. As he tells Kris, in order to make a good life for himself after his stint in prison (naturally, he was wrongly convicted), he made a deal with the devil. Should he have? Probably not. But at the time, he saw it as his only option, and he took it. I bought into this, and did think of him as a "good man." But if you're a reader who wants your heroes to be squeaky-clean? Yeah, Gil isn't your guy.
The highlight of this story for me was Kris. So often in romantic suspense novels, with cop heroines, the author downplays her assertiveness and makes her "weak" somehow. Either by putting her in danger or having her lose her brain in a too stupid to live moment. Kris is just a flat-out good cop. She's good at her job. She has good instincts. And the best part? She's not a ball-buster. She commands respect because she's a damn good person and damn good at what she does for a living. Yet, she's still feminine. She's still a woman. And she's smart. Heaven help me how I love smart heroines! She thinks logically, and uses her brain. So while some people want to string Gil up by his toe-nails, she looks at (get this!) the evidence.
Parry does have a lot going on in this book, and at times she has to throw one ball in the corner while she's juggling the others. She does get around to tying up the threads, but it does require some patience on the part of the reader. Also, while the suspense is really good here, the romance takes a bit more of a backseat in this story. Oh, don't get me wrong - it's there. That said, it helped tremendously that the author ends this story perfectly. There's a short time-table for
Dark Country
, with Gil and Kris knowing each other for about a week. Them walking down the aisle and her pregnant with triplets in the final chapter would not have worked, and I'm glad Parry went with the ending that she did.
This was another fine romantic suspense read from an Australian writer that really needs to get published here in the States. Yes, there are Australian-isms in this story, but nothing so mind-altering that this ignorant American couldn't follow along. Also, the town of Dungirri isn't that far off from some of the economically depressed areas in the United States (this story could
easily
have been set in my home state of Michigan). Parry's in the process of writing the third book in this series and I, for one, can't wait.
Final Grade = B-
Contest Alert!
Bronwyn Parry has agreed to give away a copy of
As Darkness Falls
and
Dark Country
to one lucky commenter on this blog post. Wahooey! Contest open to international readers (obviously, since Parry lives in Australia!) and a winner will be chosen at random on
Wednesday, October 21
.
For those of you who don't want to enter, or don't win?
As Darkness Falls
(UK edition), the first book,
is now available
via
The Book Depository
(free worldwide shipping!).
Dark Country
is
only available in Australia
right now, although the author has heard it should be published in the UK sometime around March-ish.