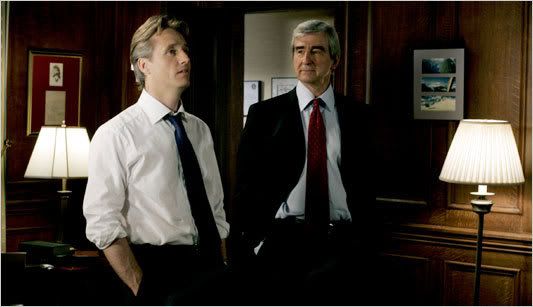 Since the FTC has now revised their guide on endorsements (and if you don't know what I'm talking about, check out Dear Author's
posts on the topic
), I figured what the hell? Everybody else is doing one, so why not do my very own disclaimer post! I suspect 99.99% of you could give a rat's ass, but if I do this post, I can then bury the link on my sidebar and never have to deal with this boring crap ever again. See, it's win-win! Plus, I don't think I've ever talked about this stuff before, so it's probably good for me to let it all hang out (as it were).
1)
I am a member of
Amazon Associates
. This means when I link to Amazon,
and
you click on that link,
and
you then purchase the product, I get a small "fee" for referring you. I mostly did this on a lark, since I use
Blogger
, which is a free service, and unlike the bigger blogs out there, I don't have any web hosting costs and am not too concerned with postage costs for contests (since I rarely run contests). So far, since signing up for the program in the spring of 2007, I've
made less than $90
.
Yeah
. Small potatoes thy name is Wendy.
Guess it's a good thing I didn't impulsively quit my day job. Ha!
I also use my Amazon Associates ID when linking over at my
Upcoming Historical Romances
wiki. I justify doing this because - hot damn! Do you know how much
time
I spend working on that thing? I know it doesn't look like much; basically it's just a list with some pretty cover art. But chasing down that information and getting it posted does take
some
effort on my part. If I can earn a few pennies for the time I spend on it, I'm going to take them.
Linking to Amazon does in
no way
constitute an endorsement of any kind on my part. I link just as readily to books that made my eyes bleed as I do to books I want to have babies with. If you don't want to put any money in my pocket? That's cool. No skin off my nose. Don't click on any of my Amazon links and then don't put the book(s) in question in your shopping cart. Easy peasy. And we can even still be friends.
2)
I do, on occasion, accept advanced copies of books from authors and publishers. In no way does receiving these ARCs "earn" an author or publisher higher marks when it comes to my reviewing. If I hate the book, I'm going to say I hated it. Regardless of whether or not I got it for free. If I loved it, I'm going to tell readers of this blog why I loved it. Simple as that.
I've been reviewing online since 1999, and in that time never once has my objectivity been called into question (well, at least to my face). I sort of resent that it is now - even though I've hardly been singled out. But whatever....
To make it easy, when I'm reviewing an ARC on this blog, I will now add "ARC Review" in the tag field at the bottom of the post. I will start doing this as of today,
October 8, 2009
. Since I have yet to go back and do general tagging on the bulk of my archives? Yeah, don't expect me to retroactively tag my older ARC review posts. Even if I could remember what reviews were for ARCs, frankly? I don't wanna.
And so ends this disclaimer. Yada, yada, yada.