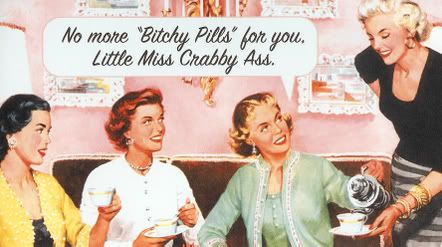 Dear Romance Bloglandia,
Yes, it's me. Your Auntie Super Librarian. I've been putting off writing this letter for sometime, mostly because I couldn't seem to arrange my thoughts in a coherent manner. However, today it all seemed to gel, and I think it's time we sit down to have a chat.
I'm tired. I'm tired of the same, old, tired ass flame wars. I'm tired of reader bloggers talking about "business," "industry," and "traffic." I'm tired of us turning on each other and eating our young.
Two
bloggers
are closing up shop (admittedly I don't know their reasons), people are
overthinking
the
BBAW awards
, and I swear to God if I see one more
"mean girls" brouhaha
I'm throwing a
Leon Uris
book at someone's head (Uris because all of his books were like 9456 pages long and they would hurt).
Everybody is so damn pissy about everything and looking for ulterior motives under rocks and behind potted palms. It's gotten so absurd that
Kristie
,
Sybil
and I even fielded complaints about
The Great Western Drive
. Yeah, seriously. Are y'all not having enough good orgasms? Is that it? Well, just in case - I guess I better clarify....
We did The Great Western Drive because Kristie thought it would be fun, and the idea amused me and Sybil. I can't speak for Kristie, but Sybil and I do about 95% of what we do just because it amuses us. Nobody put us up to it. No authors or publishers came knocking on our door, begging us to promote historical western romances.
We did it because we wanted to
. That was it. We knew some people would really dig it, and others wouldn't. To expect universal love is just ignorant. But still, I was surprised. Color me Pollyanna, but of all the crap I've posted on my blog over the years, a little amusing project showcasing my love for historical western romances ranks pretty damn low on the list. Why the feck criticize? If you don't like what we're doing - 1) don't follow or 2) build a different bandwagon all your own.
My theory is that this criticism was born out of the shifting viewpoints on what "reader blogs" should be. Blogging is a job. Blogging is a business. If you're a reader and you want to blog, you need a "plan."
Seriously, just shoot me now. It would be a mercy killing. No jury would convict you.
I still firmly believe that blogging and the blogging community is about
doing your own thing
. Yes we all want validation, love and acceptance. But let's be honest. We all started blogging about books because we're patently "uncool." No, really - we're all "uncool." If any of us were "cool" we wouldn't be spending so much time on the Internet talking about
books
. Now, now - don't be offended. I make my living as a goddamn
librarian
. Here in the Bat Cave I'm referred to as
Queen Dorks-A-Lot
. The magic of the online romance community is that all of us "uncool" people found each other. And when we're together? Yeah, we're all frickin'
awesome
! We're all rock stars!
I guess what it boils down to is that I think some of us, as reader bloggers, have lost our way. I don't know. Maybe you think I'm full of shit. Maybe I just have a raging case of PMS. But I can't help thinking that it all used to be a whole lot simpler. Back when nobody felt the need to have a "plan." Back when we were all just tossing up stuff on our own personal Internet walls. Back when we didn't care about things like traffic, advertising, and getting on ARC distribution lists.
Back before any of us thought our own shit didn't stink.
I'll say it again. I've been blogging since 2003. That makes me
old
. But if my blog vanished tomorrow? Yeah, some of you might miss me....for like half a second. And then you'd all move on. That's the beauty of the Internet. It's totally fluid, and no one is immune. Even the "big blogs" could vanish tomorrow and sure people would be sad - but you know what?
They'd get over it
. The minute a blogger starts believing their own hype is when, I think, the first nail goes in the coffin.
I'm not sure what the answer is. Especially since some of you are probably reading this wondering what the hell crawled up my ass and died. I will say that if you're reading this, and you blog, that you do one thing for me. Just step back and think for a moment. Think back to
why
you started blogging. Think back to a time when blogging and the online romance community made you happy. Think back and remember. Hold on to it.
Then take a deep breath....
And exhale.
Yeah. That's it. I want
that
back.
Sincerely,
Wendy The Super Librarian