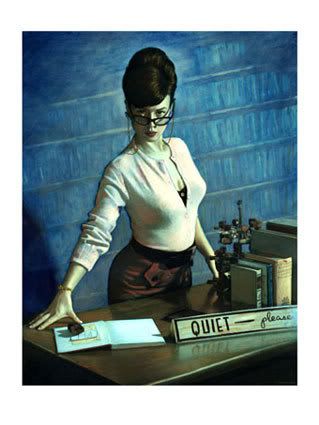 What I've always found so interesting about the romance genre is the connection that readers share with the authors. Even back in
The Dark Ages
, it was pretty easy to send "fan letters" to authors. To this day when I crack open a book from the early 1990s, I often find a PO Box address listed at the end of the author bio.
Then the Internet happened. Authors got web sites and e-mail and it got even easier for readers to "mingle" with authors. Now in the age of social networking? Forget about it. It's a free-for-all.
This isn't necessarily a bad thing. Let's be honest here. Pretty much everyone outside of the genre tends to scoff at romance. It's poorly written crap. The authors are making money churning out
Mad-Libs
style books. The readers are idiots happily lapping up simplistic drivel. Lather, rinse, repeat. When you have that kind of scorn directed at you from "the outside," you're naturally going to look for approval from "the inside." So romance authors and readers have banded together as a clan, of sorts. It's pretty cool actually.
Where it gets sticky for me is when we talk objectivity. The line started blurring the moment the online romance community was born, and now in an age where anyone can start their own blog, it's gotten
really
murky. I'm all for everyone and anyone to start blogging (the more the merrier I say!), but when it comes to reviews and promotion, it's throwing a wrench in the works.
I'm a bit of a cynic at heart, but when I see an author and reader
Tweeting
each other, commenting on each others' blogs, and then I see the reader post an
A+++ (squeeeee!)
review for the author's latest book? Yeah.
Doubting Thomas
at 5 o'clock.
OK, so I'm a bitch.
And a hypocrite.
There are authors who comment on this blog. And authors who I follow on Twitter. Over the years I've unabashedly championed some authors (Maggie Osborne and
Portia Da Costa
coming to mind). So what makes me think
I'm
"different."
I'm not really. I'm a fan. An unabashed fan. What it all boils down to is objectivity. I've been accused of being "too hard" on books and being "hard-hearted." That last one, I hope, jokingly. But for me?
The author is not their book
. There are countless authors I have "met" (in person and virtually) over the years who I think are wonderful, beautiful, incredible, lovely human beings.
But I can't stand their books.
Do I feel like a shit-heel for it? Yeah. For about half a minute. And then I move on. Because my not liking a book is just that -
me
not liking it. Doesn't mean countless other people out there won't love the book and want to have babies with it. It's just that I don't. Also it doesn't mean I won't buy the book for work. Hell, my job is
all about
objectivity. Otherwise I'd never buy another
Danielle Steel
book as long as I live.
I think most authors are grown-ups and "get it." Maggie Osborne is retired, so she probably doesn't give a hoot that some crazy librarian fangirl didn't care for
The Stranger's Wife
or
Shotgun Wedding
.
Portia Da Costa
still talks to me even though I wasn't wild about one of her Spice Briefs short stories for Harlequin. Heck,
Jennifer Lyon
still acknowledges my existence despite me whining about her leaving behind mysteries (which I really liked!) to write paranormals.
Do I feel like crap when I meet an author in person and I gave one of their books a "negative" review? Yeah. I feel like shit. But I know it's a business, they know it's a business, and in the grand scheme of things, is my one less-than-enthusiastic review of their book going to ruin their lives? Highly unlikely. I don't have, or want, that kind of power.
Although if I did have that kind of power, just think what I could do for historical westerns?
Ultimately it comes down to the reader/blogger being honest with themselves. If they recognize that remaining objective is "hard" for them, maybe they need to decide what they want more. Mingling with authors via social networking or reviewing their books for a blog? I don't think being a fangirl is necessarily a bad thing (well, unless you're crazy - then that's no good), but own it. Admit it. Revel in it. Be upfront about it. Because I want honest reviews giving me good, solid information about the book. If your honest opinion is
"Squeeeeee I love everything this author has written - including all the doormat heroines, 'man roots,' 'love grottos,' and asshole Alpha jerks who rape the heroine until she falls in love with him"
then so be it.
But own it
.
Don't pass yourself off as being objective when you aren't. Because frankly, that sucks.
This is a constantly evolving issue, and one that I think quite a few reader bloggers struggle with. I also don't think it's going to let up anytime soon. Especially since so many aspiring author bloggers who have had feet in both
Author
and
Reader
blogging worlds are now starting to get publishing contracts.
Stay tuned for further developments.