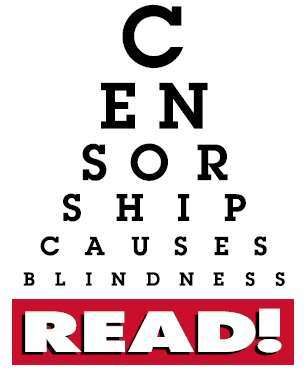 The American Library Association's annual Banned Books Week is going on right now, September 26 - October 3. I encourage you to visit the
ALA web site
, where you can find oodles of information concerning banned and challenged books. My personal feelings on the topic of censorship is that it sucks, and that every "good" public library should have something on the shelf to offend everybody. I also think everybody should "honor" the occasion of Banned Books Week by reading something that someone, somewhere would (or did) find offensive. Which honestly, isn't all that hard since people have a tendency to be ass-hats.
And for the record? Wendy's personal favorite challenged books are
Of Mice And Men
by John Steinbeck,
Flowers For Algernon
by Daniel Keyes and the
Harry Potter series
by J.K. Rowling.
++++++++++
One thing I forgot to mention
that happened this weekend
(beside the blogger meet 'n greet and Lil' Sis announcing she's knocked up) is that the Bat Cave has gone
wireless
! While I was out having fun on Saturday, My Man plunked down the cash for a wireless router. Which means yours truly can now surf the Interwebs while lying in bed, sitting in the living room, on the toilet (OK, even I wouldn't do
that
), from
anywhere
in the Bat Cave. Heaven! Joy! Oh happy day!
++++++++++

As previously mentioned the agency I work for as decided to filter the Interwebs. The library got an "exemption" from this, but turns out the software isn't playing nice with Firefox. Since our IT department doesn't "support" Firefox, and frankly has bigger fish to fry than just catering to lil' ol' me, I've sucked it up and switched to Internet Explorer. Gotta say, I pretty much hate it. Oh well. Suck it up Wendy. I'll likely get used to it. Eventually. Blah.
++++++++++
Beverly Jenkins
has done a
guest post over
at the Borders
TrueRomance blog
. I adore Jenkins. 1) She's a Michigan girl 2) She puts such wonderful historical tidbits in her books and 3) She's just an all-around smart, awesome chick. Her latest book,
Captured
, is set during the American Revolution and is a sea-faring tale featuring pirates! Laydown date is tomorrow, September 29.
++++++++++
My gal
Rosie
has
an interesting post up
over at Access Romance
Reader's Gab
about whether or not wading into online debate can or should be viewed as apathy.
"Depending on the day, week or month there is always some wave making itself felt throughout the blogs and author websites that comprise Romancelandia. While many people, myself included, will make the effort to comment that they either don't care or can't be bothered to get involved, that opinion is sometimes observed as being a wimpy or fence sitting. The perception seems to be that someone who can't be bothered is really waiting to see where the hand of righteousness will fall and then the wimp/fence sitter will tumble to the side of popular opinion."

Go forth and make your own opinion known.