I've got a variety of random "stuff" to blog about, so let's start off today's potpourri post with charity shall we?
The write-a-thon, read-a-thon to benefit the
Cystic Fibrosis Foundation
known as Unleash Your Story is in the works for the second year running. The event kicks off on August 31 and will run until September 28. If you are interested in participating, or making a donation, be sure to check out
their web site
for more information.
Oh, and yours truly is once again guest blogging over there during the event. Some of you may recall (OK, probably not) that I did
a guest post last year
and they asked me to return in 2009. And I said yes. Not sure when my post will be going live, but I'll be sure to post a link over here when it does.
++++++++++
Today is the Super Librarian's Father's birthday. It's a
big
milestone birthday too, not that all birthdays aren't special. Dad got his present in the mail this weekend and yes, I bought him
Yogi Berra: Eternal Yankee
by Allen Barra on audiobook CD.
Yes, a biography about a
::shudder::
Yankee
.
Growing up my father was a
big time
Yankee fan. It's a dark period in our family history, and frankly we don't like to talk about it much. Thank the good Lord he finally outgrew the affliction. He was young, impressionable and going through a rebellious period.
So why did I buy this for my father? Well, first off as much as I dislike the Yankees, I love Yogi. Hell, everybody loves Yogi. Also, this particular biography has gotten excellent reviews, so from a book-y standpoint, it was a good purchase.
Also, it made my Dad happy. That's really enough.
++++++++++
Now on to a subject that probably only
AztecLady
will care about. I got to the office yesterday morning after a round of weeding at one of our libraries to discover this in my in-box.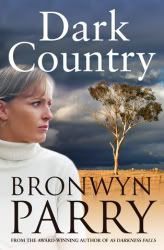 Yep, it's
Dark Country
,
Bronwyn Parry
's second romantic suspense novel that is sadly, once again, only being published in Australia next month. Some of you may recall that I read the author's first book,
As Darkness Falls
, last year and
really enjoyed it
.
The good news on that front?
As Darkness Falls
will be released in the UK on October 1. So for curious non-Australian, non-UK readers? You can order yourself
a copy via Amazon.uk
or better yet?
Get a copy
via
Book Depository
where they offer
free shipping
.
Wahoo!
I'm still crossing my fingers that some US publisher will come to their senses and pick up the rights to these books. Romantic suspense is a hard genre to pull off, and I think Parry really showed she had the chops in her first book (incidentally, an RWA Golden Heart winner).
Now I really need to get reading. My immediate TBR pile is maddening and I must read this book soon. Must, must, must!