First, a shout-out to the So. Cal. Bloggers to let them know that RWA won't be in San Diego in 2012. It'll
be in Anaheim
! The thought of sleeping in my own bed and attending Nationals is enough to make my heart skip a beat. Who cares if I have to wait three more years to do it?
Last night I finally got my pictures uploaded to my Flickr account. I made an album and you can see
all of them here
. In the meantime, here are a
few
of my favorites. Enjoy!
Carrie Lofty
and I after our video interview for
Romantic Times
. That's not happiness on our faces, it's relief! One of my better hair days, and Carrie? Big Sis informed me she loves your blouse. I loved it too!
I titled this picture the cutest girls in the bar.
Lusty Reader
,
Aymless
and
Barbara
. Bask in their cuteness.
Rosie
having some sort of religious awakening with her ARC of
Indiscreet
by
Carolyn Jewel
. Getting this ARC made her trip. I'm not kidding.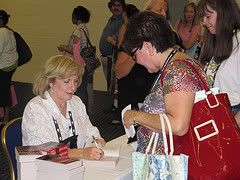 I was casually wandering around the Literacy Signing when I just happened by
Linda Howard
's table and saw Rosie was next in line! I snapped this picture so Rosie could preserve her fangirl moment.
The always gracious Harlequin Historical author,
Michelle Willingham
before the RITAs. You can't really tell here, but she was rocking a really cool necklace that used to belong to her grandmother. It was very sparkly.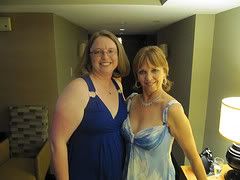 The lovely and talented
Nora Roberts
standing next to some fat girl.
Sigh
. I'm trying to do better. Honest. Anywho, as always Nora looked lovely for RITA night (OMG, her jewelry!). I got several compliments on my dress. The first non-black dress I've bought in years.
Da girls on RITA night. From front to back:
Azteclady
,
AnimeJune
, Barbara, Rosie and
Kristie
. Note to anyone who lives near Barbara: girlfriend is one mean hair-wrangler. She did Kristie's hair and it was fab-u-lous!
Here I am rockin' the light-up plastic tiara I got at the Harlequin SuperRomance party. It'll have to do until a Greek (or Italian) tycoon shows up on my front door bearing a real one.
And those are some of the pictures. Now
Ames
and
Nath
can get off my back! LOL