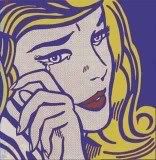 Word came down this month that Virgin Books (part of the Random House family these days) was putting their erotica imprint,
Black Lace
,
on hold next year
. Meaning what titles are slated for the latter half of 2009 could very well be the end of the line.
Some of you are probably wondering 1) why some of us are truly bereft to hear this news and 2) why you should bloody well care. Well, I'm here to tell you.
This may come as a surprise to any newbie romance readers out there, but erotica and erotic romance used to be very
un
-mainstream. I was reviewing for
The Romance Reader
when
Kensington
literally revolutionized the market by launching the Brava line.
Whoa doggie
. You would think it was the end of western civilization. You wouldn't believe the
crap
that was getting posted on message boards and e-mail loops. There was no place in the romance genre for this....this...
smut
! It's nothing more than....than....
porn!
No, I'm not making this up. People were saying this about the
Brava
line. Oh my, how times have changed!
It was through my affiliation with TRR that I discovered "the hot stuff." It started with
Seductive
by
Thea Devine
(Devine Crack Hos: the book with the pearls). From there I reviewed
Beyond Seduction
by
Emma Holly
. This was the second "mainstream" historical romance title that Holly wrote for
Berkley
. I loved it. To which one of my long-time buds on one of my e-mail loops said:
"Oh Wendy! You

have

to try her Black Lace books."
Black Lace? Really? Off I go to check them out....
I read
Cooking Up A Storm
and Pandora's Box was officially opened. I was sold. Hook, line, sinker.....addicted. There was no going back.
I'll be honest. As much as I love romance, I tend to get pissed off with
The Code
.
The Code
is as follows:
Too Stupid To Live Virginal Twat = Heroine

Female Character Who Actually Enjoys Sex Before Meeting "The One" = Skanky, Slut Villainess.

Being in my early 20s, not that far removed from college,
The Code
really pissed me off. I know. Sex is better when it's with someone you
lurve
....blah, blah, blah. I'm going to blunt. If you're having sex with someone you aren't hopelessly in love with, it doesn't mean it's automatically going to be terrible. Don't ask me how I know this, I just do. Let's leave it at that.
I didn't get this clap-trap in Black Lace novels. Black Lace novels made it
OK
for the female characters who were traditionally vilified in romance novels to be the
heroine
of their own stories. They could be who they wanted to be, do whatever they wanted to do, and with whomever they wished and....
they weren't punished for it
.
Hear that? That would be Wendy's little feminist heart singing The
Hallelujah Chorus
.
Now I'm not suggesting that Black Lace novels were all good (
::snort::
hardly
) and I'm not suggesting that
all
romance novels follow
The Code
. Like most of my reading life, it was my dumb luck to hit a string of irritatingly bad books one after another. Black Lace came along at a time in my life when I needed validation. I got it, for which I am eternally grateful.
So where did it all go wrong? The market changed, and Black Lace didn't change with it. Kensington Brava opened a window into making "hotter" romances more mainstream. Then
Ellora's Cave
kicked open the door, poured some gasoline on the floor and lit a match. Who woulda thunk it? Readers like erotica and they're more than willing to read it electronically? Golly gee.
Once the digital revolution in terms of erotica and erotic romance launched, Black Lace should have hit the ground running by offering up their titles electronically. They also should have worked on their distribution. You know how many Black Lace titles I've purchased in traditional brick and mortar bookstores?
Zero
.
I can never find what I'm looking for there. In the old days, a few well-worn titles with spine creases (
grrrr!
) would be buried in the Sexuality/Self-Help (
tee hee
) section. I didn't start seeing Emma Holly's Black Lace titles in stores until their third or fourth reprinting (by which point I had ordered all my copies online), and only
after
she started swimming the more mainstream waters of paranormal romance.
So even though the revolution had arrived, I was
still
ordering my Black Lace online. This isn't a big deal for me, but it's still a small percentage of readers who order their books online. A huge market wasn't being tapped by making the titles more readily available in traditional outlets.
As for learning about what new titles were available? Forget about it. To this day it still requires a fair amount of Internet sleuthing, and for years I relied
heavily
on the recommendations of my smut-minded online buds until I built up a core of authors I knew I could rely on.
But while the possible demise of Black Lace isn't unexpected, that doesn't make it any less sad. It's hard to understand now, what with erotic romance being so darn....
respectable
, but Black Lace was literally ground zero. It was the safe place where women could go to read erotica that was written by other women, catering to female fantasies. It was breathtaking. It was groundbreaking. And now we're hearing the first few faint notes of a funeral dirge.
And if my broken heart isn't enough, that is why you should care.