The June 2 episode of The Price Is Right
is now onlin
e
for your viewing pleasure. My sister gave me the heads-up via Facebook and sure enough she wasn't lying. We're on TV
a lot
! For those of you interested in catching a glimpse of my 15 minutes of fame? The best shots of me and the family are when Dandy (yep, his name
is
Dandy!) from the post office gets up on stage. Here are some admittedly not-great screen shots that I took to capture our moment of glory! Ha!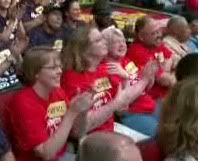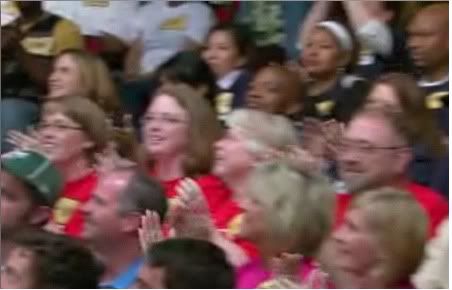 From left to right:
My erotica-lovin' Lil' Sis who comments on the blog from time to time (she kicks ass!)
It's a bird, it's a plane.....it's Super Librarian!
My extremely excited mother who proceeded to tell us for the next week how much she loved going to see The Price Is Right.
My mild-mannered father. He may look large and imposing, but inside he's all marshmallow center.
How awesome are we? Well, apparently not awesome enough to make it down to contestant's row....but minor detail.