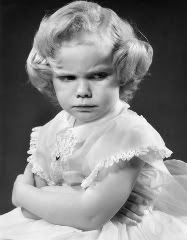 I've read
a lot
of WTF-ery on the Internet in my time, but today's happy jaunt through my Google Reader just about had me falling out of my chair. Over at the
All About Romance blog
, Lynn posted about her latest encounter with
The Book Police
. What was Lynn doing that was so offensive? Was she burning copies of
Catcher In The Rye
in the library parking lot? Was she demanding that the public library remove a book off their shelves because
"please, won't someone think of the children?!?!?!"
Or how about checking out a stack of library books and returning them grossly overdue?
Nope. None of those things.
Lynn's crime?
Reading a romance novel in public.
I'm not shitting you. Lynn was asked (and this was
the third time in five years
!) to stop reading a romance novel in public because others found it "offensive."
Seriously.
Now, I have some non-romance readers who actually read this blog (amazing, I know). So I'm going to post the book cover in question. Admittedly? Yeah, anyone with two brain cells to rub together is going to know that this is a romance novel. But do you think it's offensive?
Please take a few moments to pick yourself up off the floor, control your laughter, take some deep calming breathes, or do a shot of tequila because you are now weeping at the thought of the number of idiots currently walking around on our planet.
Seriously, words fail. I'm not sure what Lynn did. Myself? I probably would have told the "offended" party to go fuck themselves sideways - but I've discovered that the older I get the less tolerant I am of morons that evolution hasn't gotten around to weeding out yet.
My advice to Lynn? Well, she has some options. She could move, which isn't very reasonable but I'm thinking I'd want to get the hell out of
Stepford
if I were her. She could also start throwing rocks (I'm rather fond of this one). Or she could be a total bitch on wheels and start reading books like this in public.